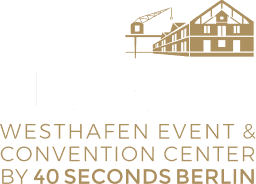 The WECC Westhafen Event & Convention Center is located in the listed former warehouse 1 directly next to basin 2 of the Westhafen. The air-conditioned premium location with its top equipment is the ideal platform for conferences and congress.
THE EVENT LOCATION
WITH ITS OWN JETTY
INDUSTRIAL STYLE – ALL IN!
Spread over 2,700m², eleven different rooms for various events have been created in the listed former warehouse 1 at Westhafen Berlin, providing a space for events with up to 1,500 people under one roof. Connected by a foyer, the two adjacent multi-purpose main halls form the heart of the venue with 770m² and 420 m² and a ceiling height of 12.40m.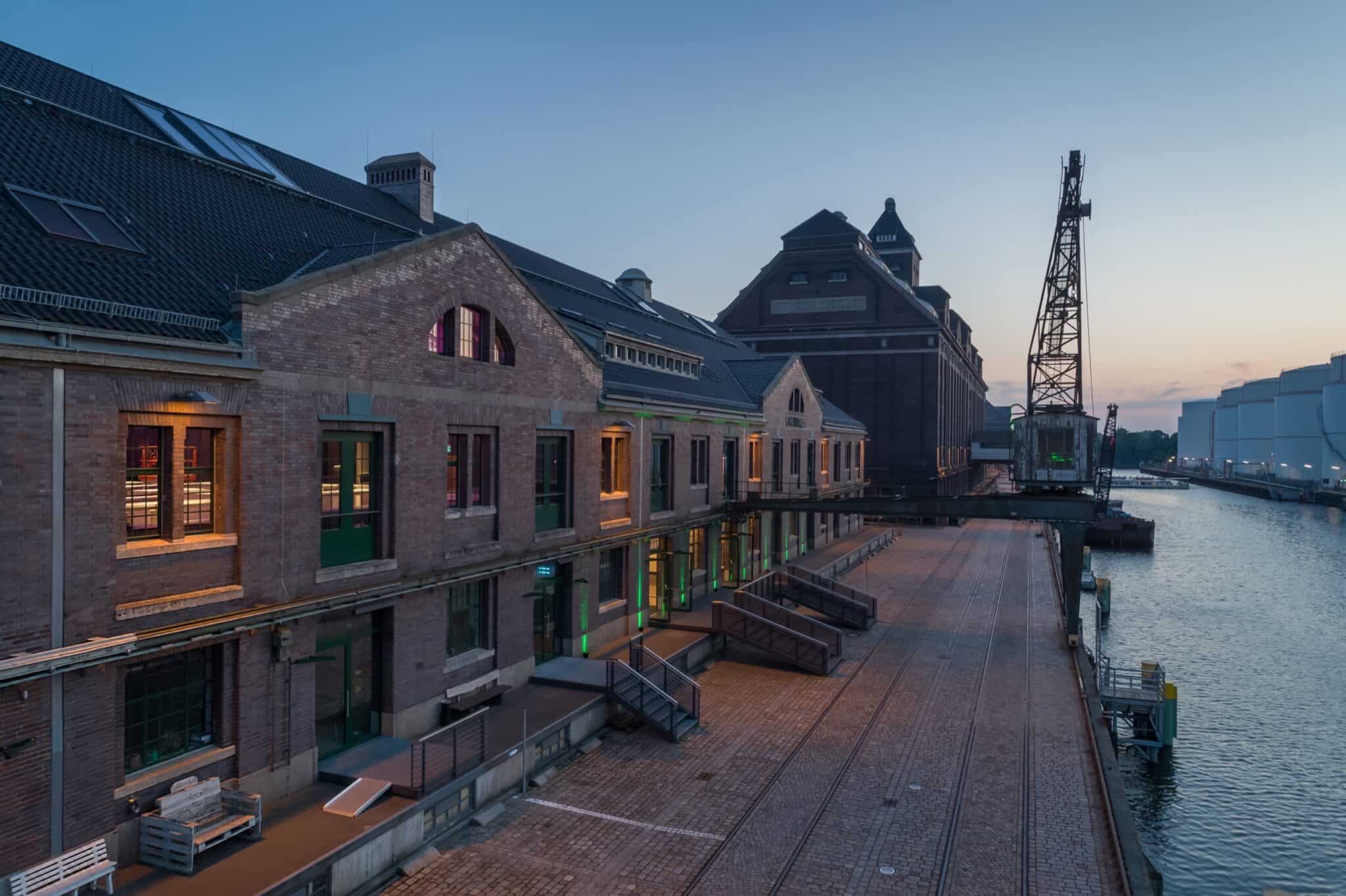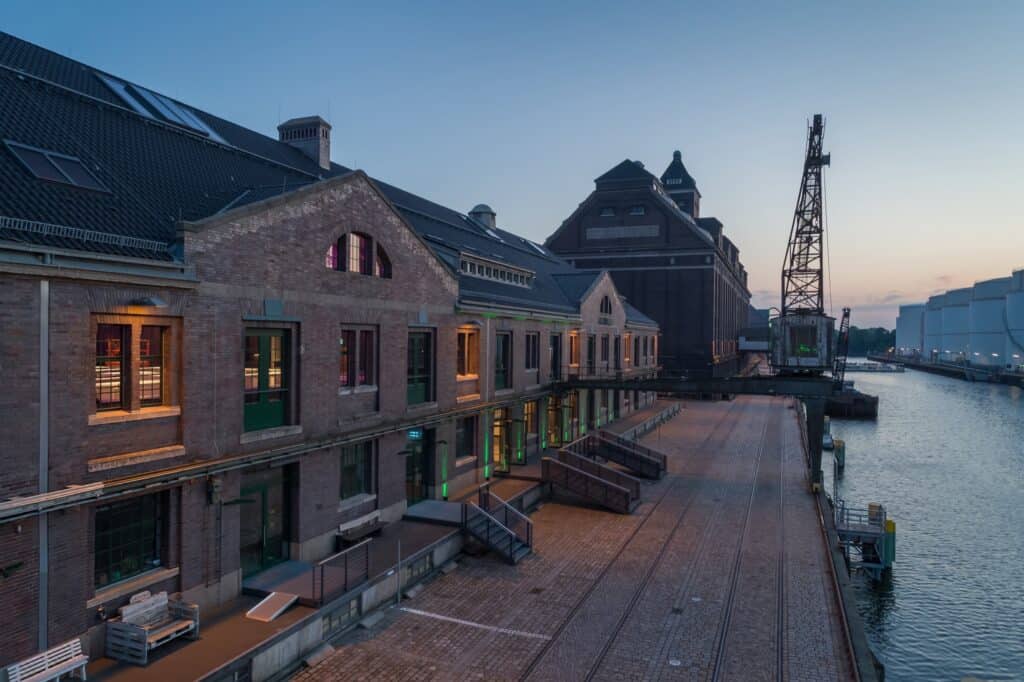 2 big halls
2 lobbies
8 workshop rooms
5 backstage rooms

S- and U-Bahn stations Westhafen
own jetty


Basic technical equipment via
our exclusive partner: satis&fy
Symmetric gigabit connection
Separate public IP for the clients

365 days per year
no time and volume limit

25 parking slots at WECC
350 parking slots at MOA-Bogen (900m)
Shuttle available
Variability as the ultimate goal
In the multi-purpose rooms at WECC you will find state-of-the-art media, light and sound technology as well as equipment for conferences and meetings for sophisticated conference guests.
The unique charm of this particular venue is topped off by its ideal infrastructural connection to the most important hubs in Berlin (Potsdamer Platz, the central railway station, and Berlin's exhibition centre).
Industrial architecture in style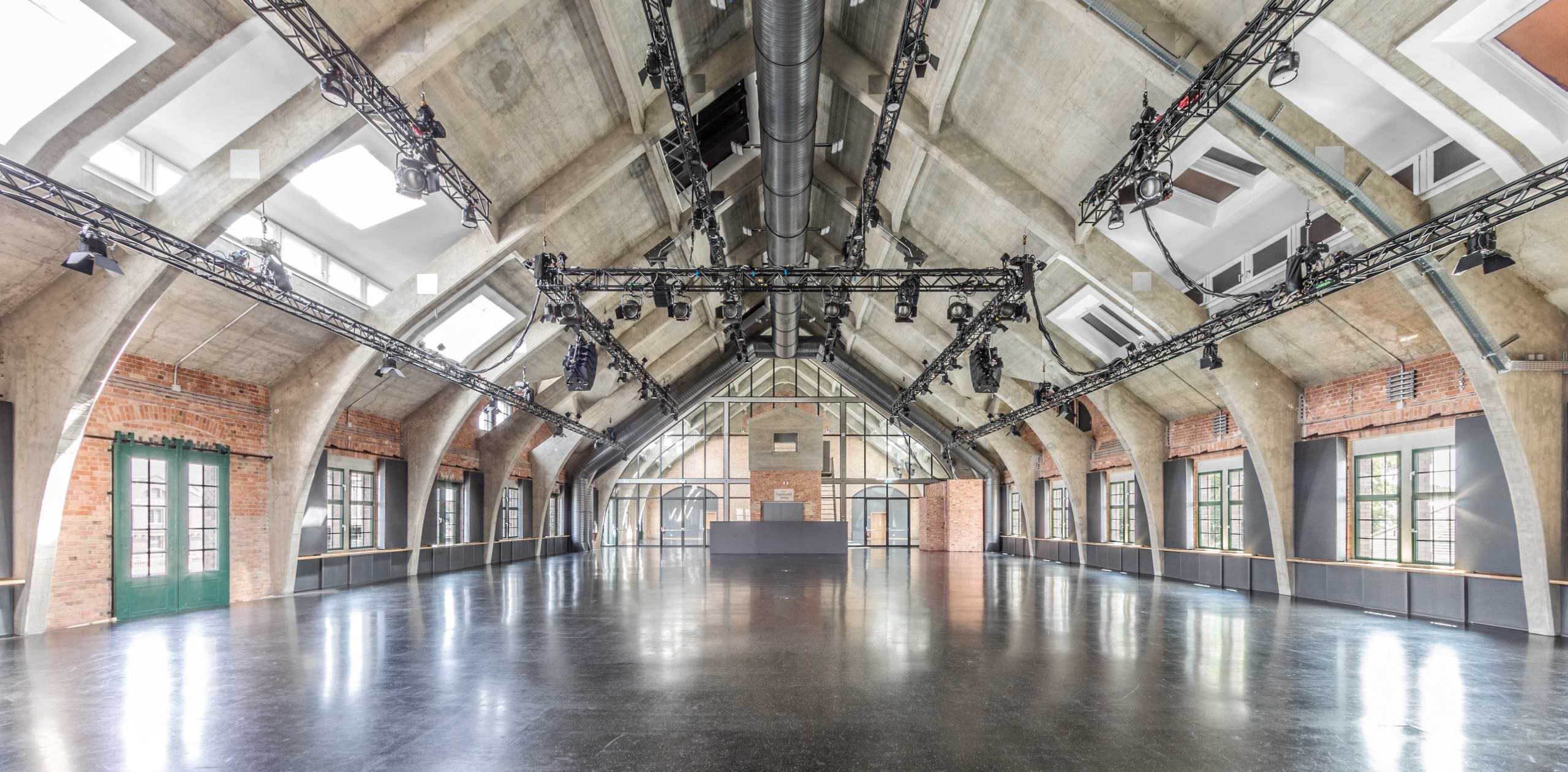 The large hall offers an ideal space for big events. The heart of the venue is suitable for conferences, gala dinners, receptions and product presentations. Vehicles can also be brought into the large hall using a sophisticated crane system.


Capacity
Row: 1000 Pax
Parliament: 550 Pax
Banquet: 560 Pax
Reception: 1200 Pax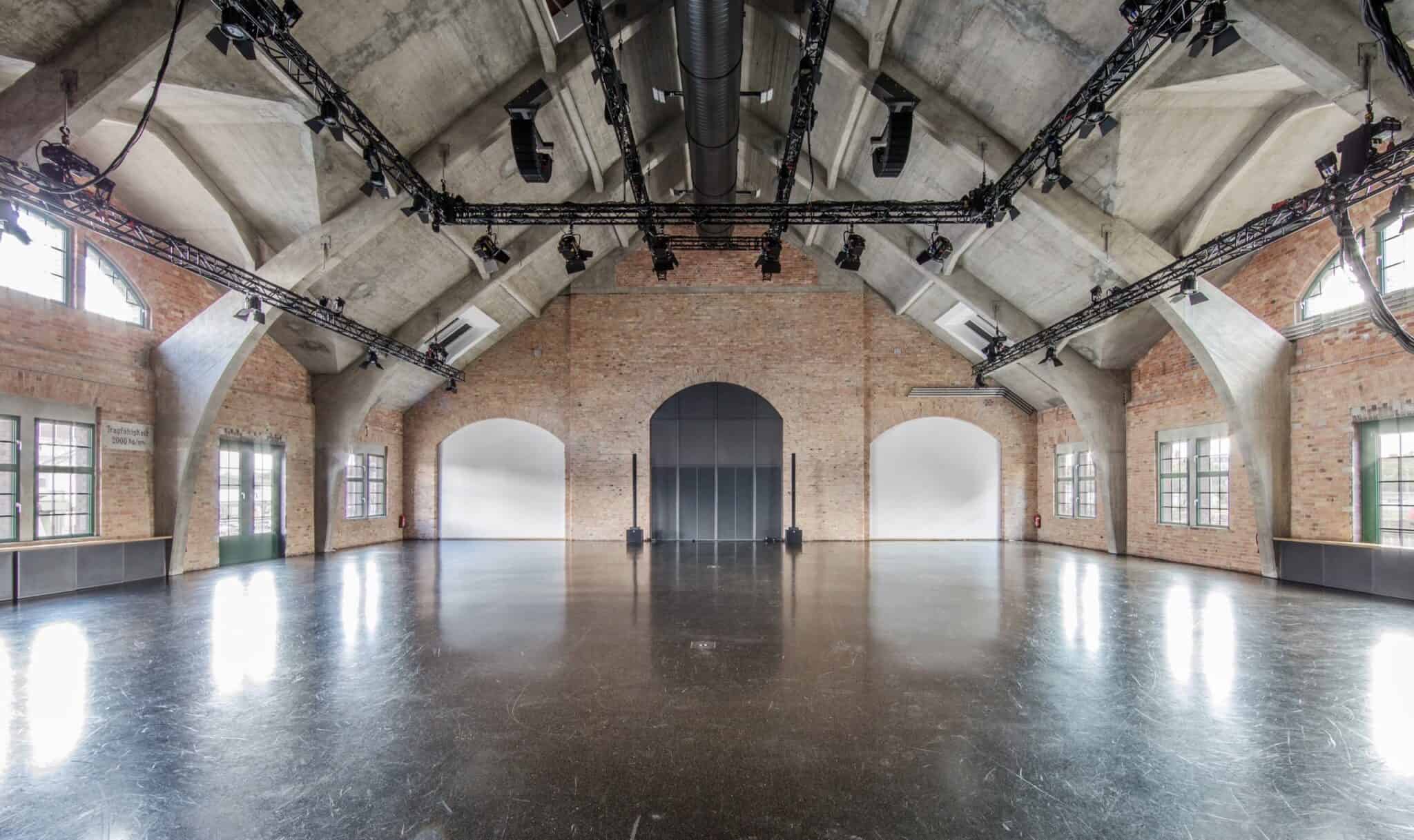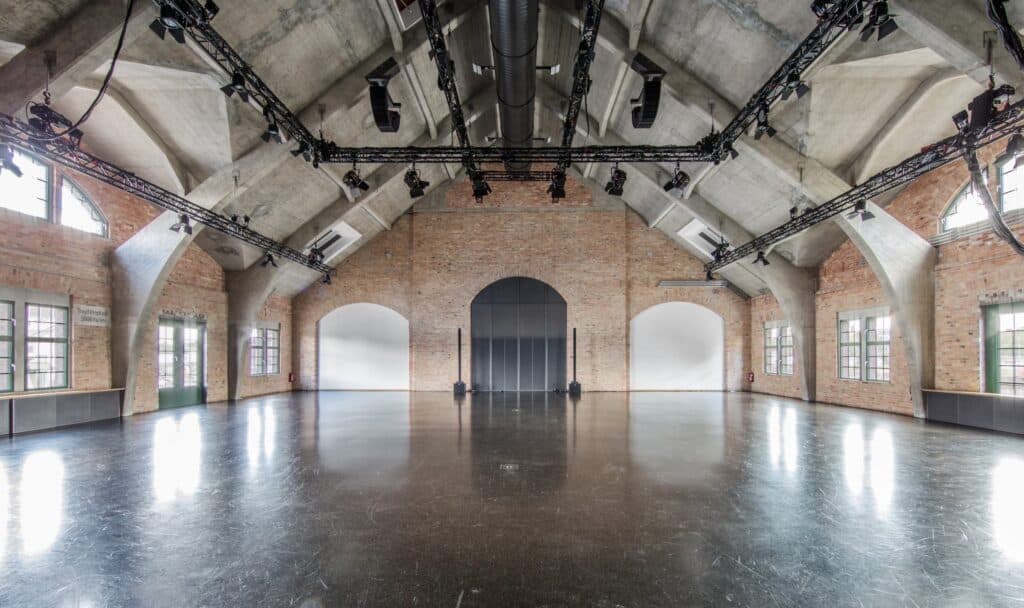 The small hall is a venue in its own right. With a surface area of 420 m², independent events can be held here. Alternatively, you can use the small hall as an extension to the space upstairs.


Capacity
Row: 500 Pax
Parliament: 250 Pax
Banquet: 350 Pax
Reception: 500 Pax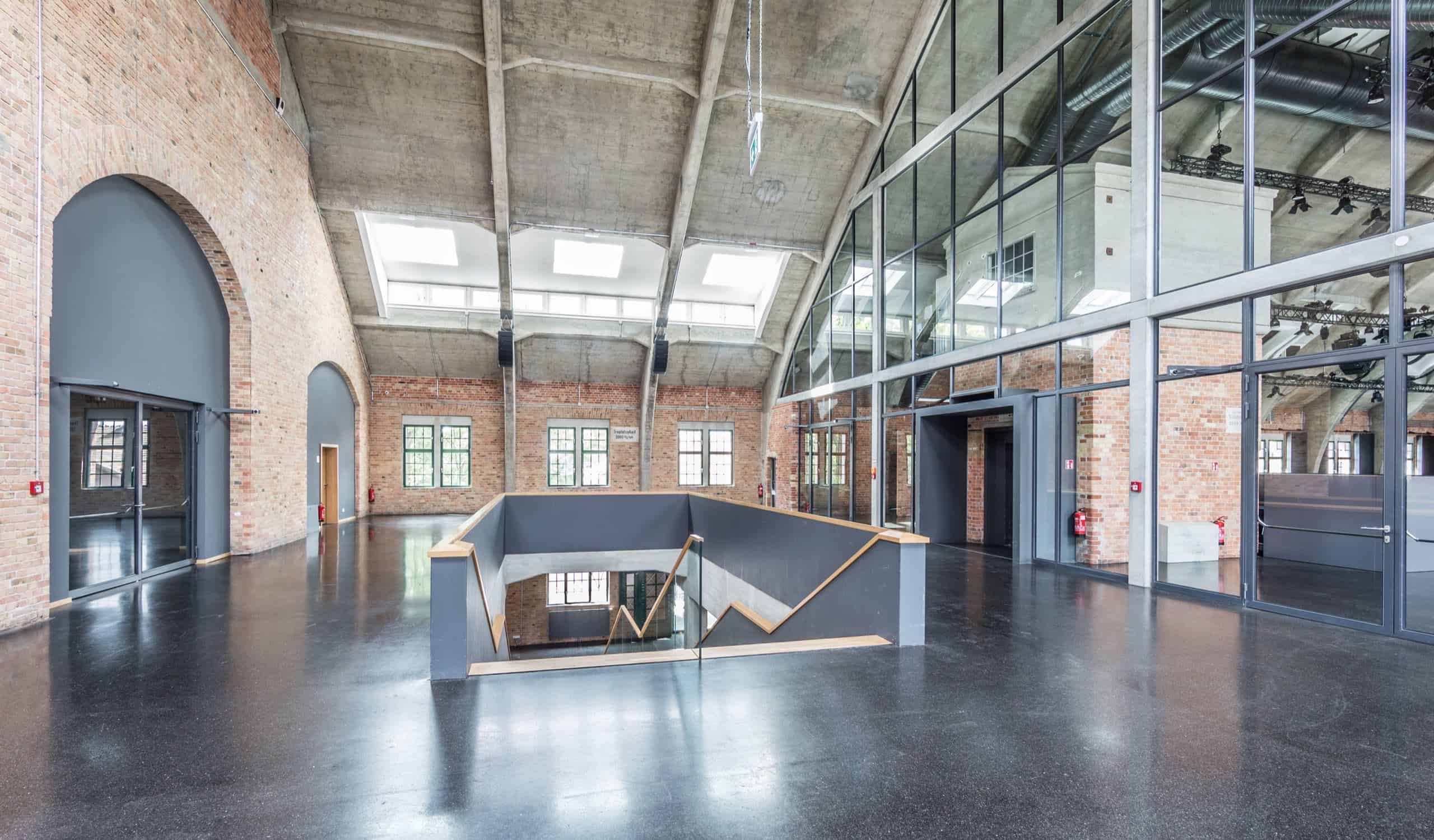 The reception on the 1st floor is the central meeting point in the Westhafen Event & Convention Center Berlin. Inside the venue, the guests enter both rooms (large hall and small hall) via the reception. It can be used as a lounge area, a guest reception area and an exhibition area.


Capacity
Row: inapplicable
Parliament: inapplicable
Banquet: inapplicable
Reception: inapplicable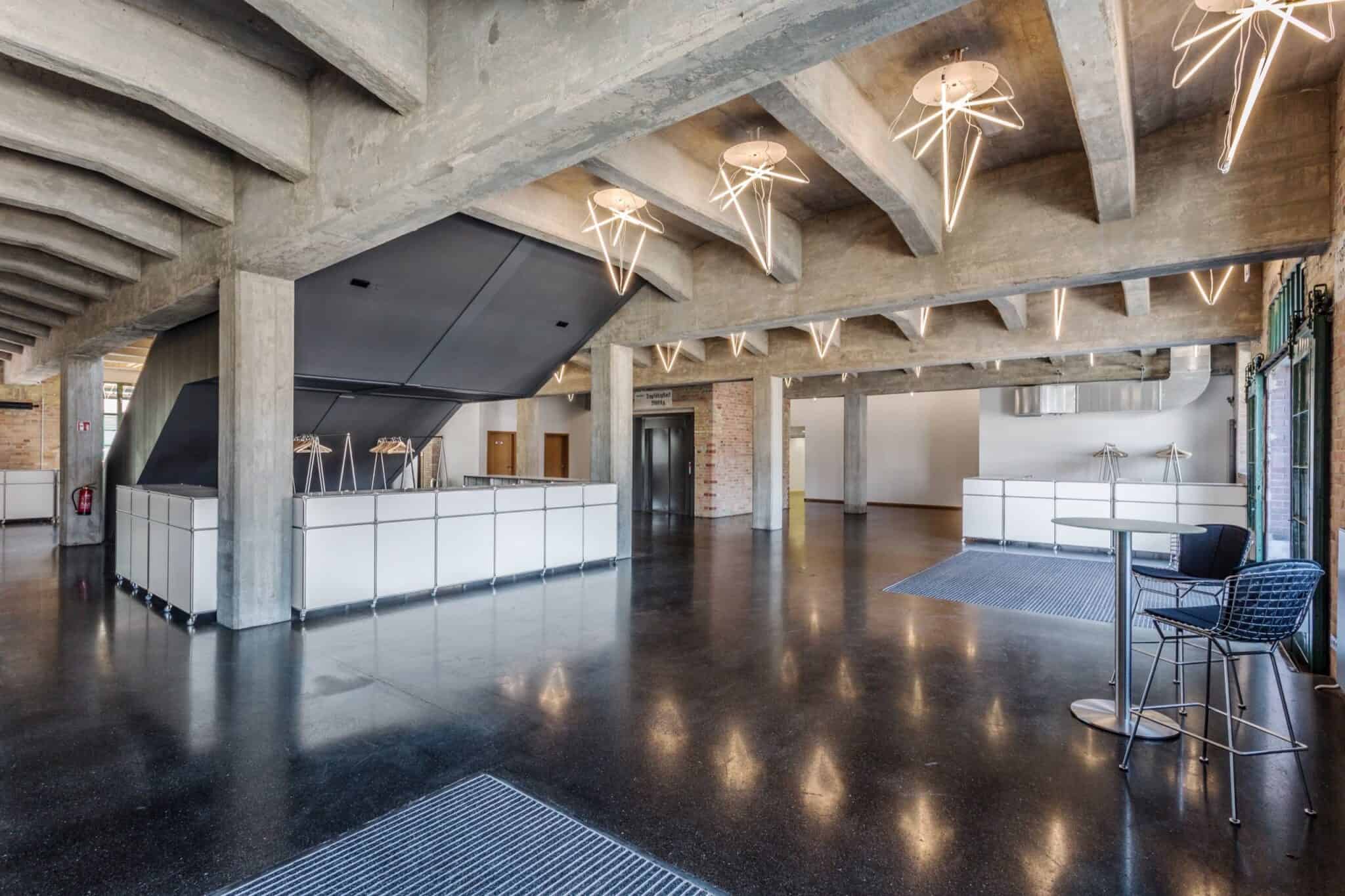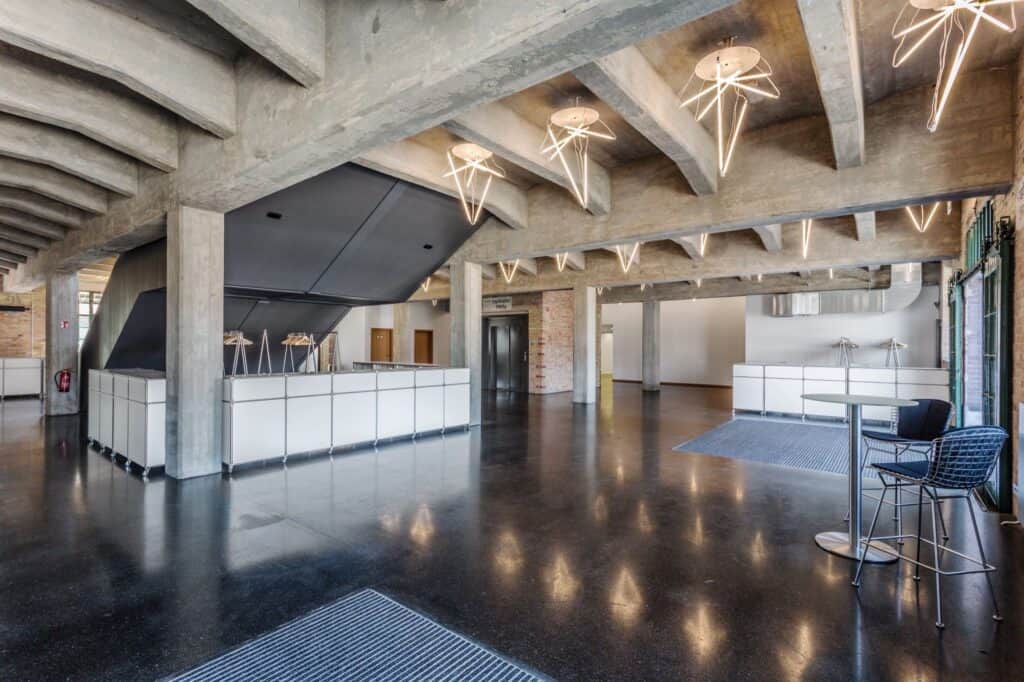 First impressions count! The guests enter this spectacular venue through two large entrance gates on the riverside. Upon entering the building, guests are welcomed by an elaborate, modern foyer and a central, mobile reception desk. Mastic asphalt, clinkered walls and nostalgic details give guests an insight into the industrial culture of the past. Going up the central staircase or the lift, you will arrive at the 1st floor – or stay on the ground floor in one of the 8 workshop rooms which are directly connected to the reception.


Capacity
Row: inapplicable
Parliament: inapplicable
Banquet: inapplicable
Reception: inapplicable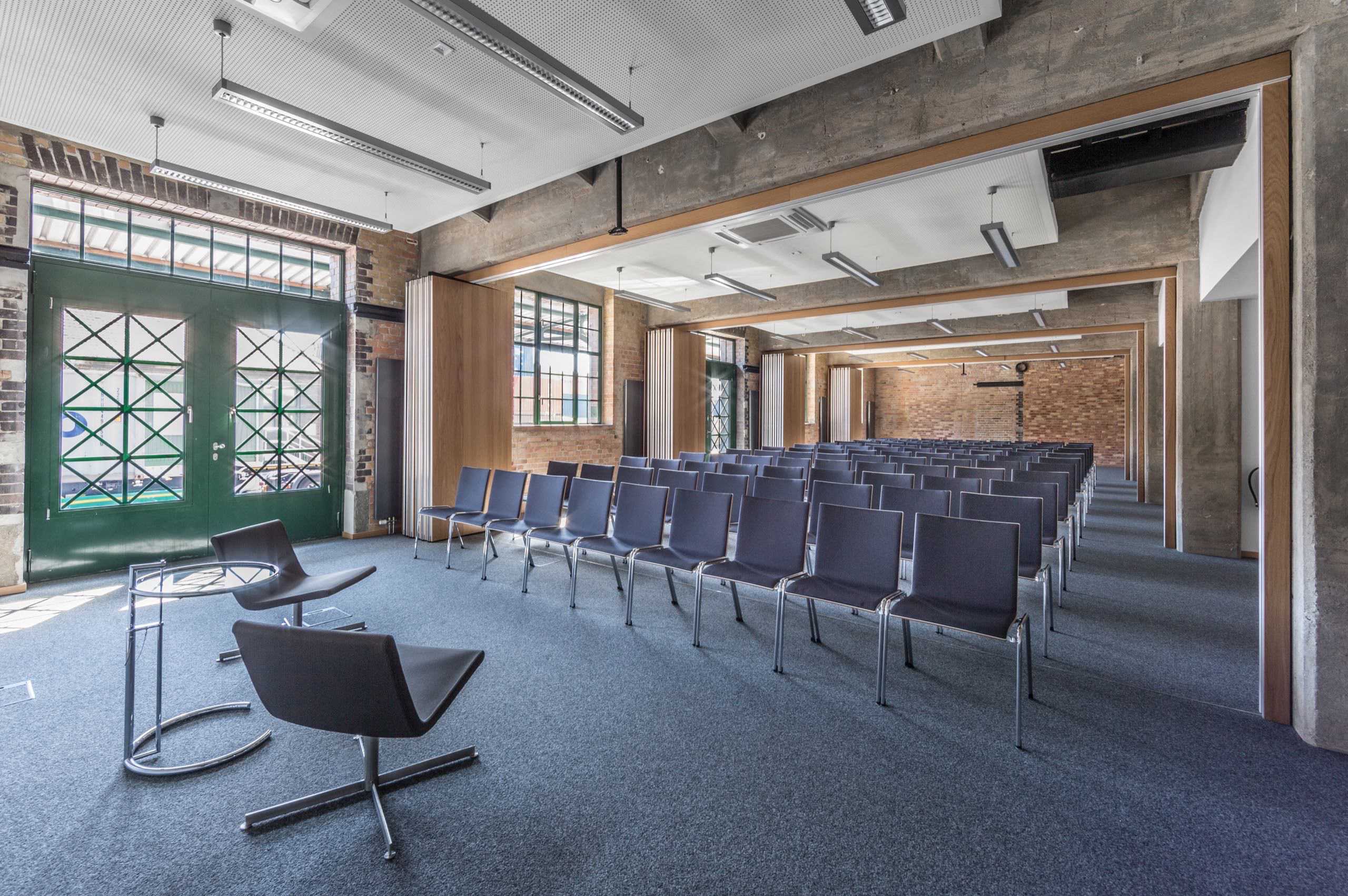 For larger workshops, the specified workshop room sizes can also be combined, providing up to 120 m² and 200 m². The rooms can therefore be extended to meet your needs. There are projector connection points on the end walls so that all guests are able to get a good view of the media content presented.

Surface area: 120 – 200 m²

Capacity
Row: 120 – 180 Pax
Parliament: 100 – 130 Pax
Banquet: inapplicable
Reception: 150 – 250 Pax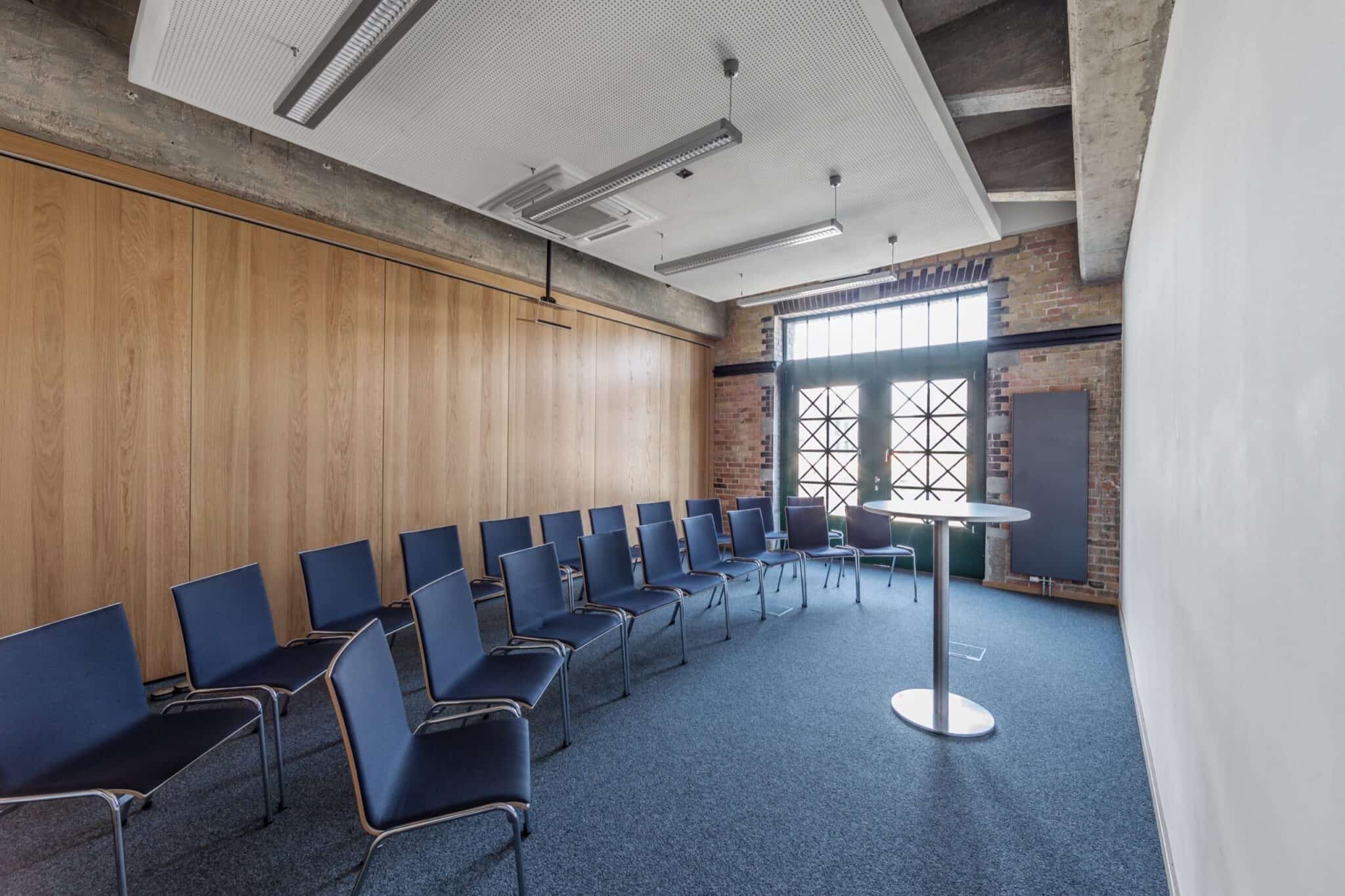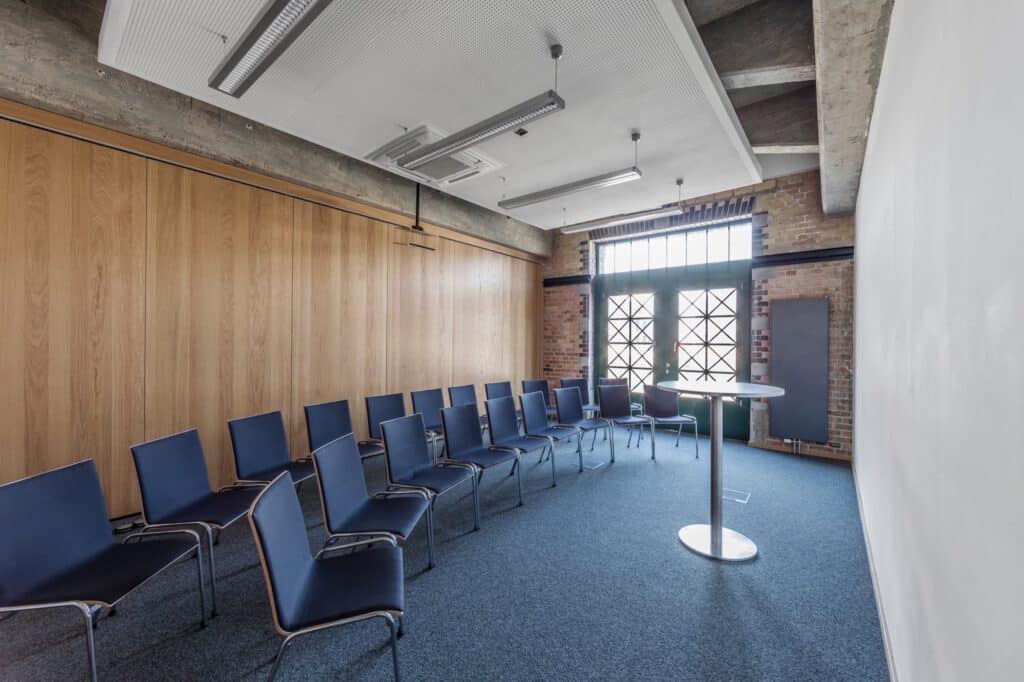 The smallest of the workshop rooms is still 100 % functional. Its clear, rational design provides space for intensive meetings. Modern connections, either with fibre optic cable or CAT cable, ensure the networking of the whole building. With almost 30m², you will find that this space is the best place to develop new ideas.


Capacity
Row: 35 Pax
Parliament: 16 Pax
Banquet: inapplicable
Reception: 45 Pax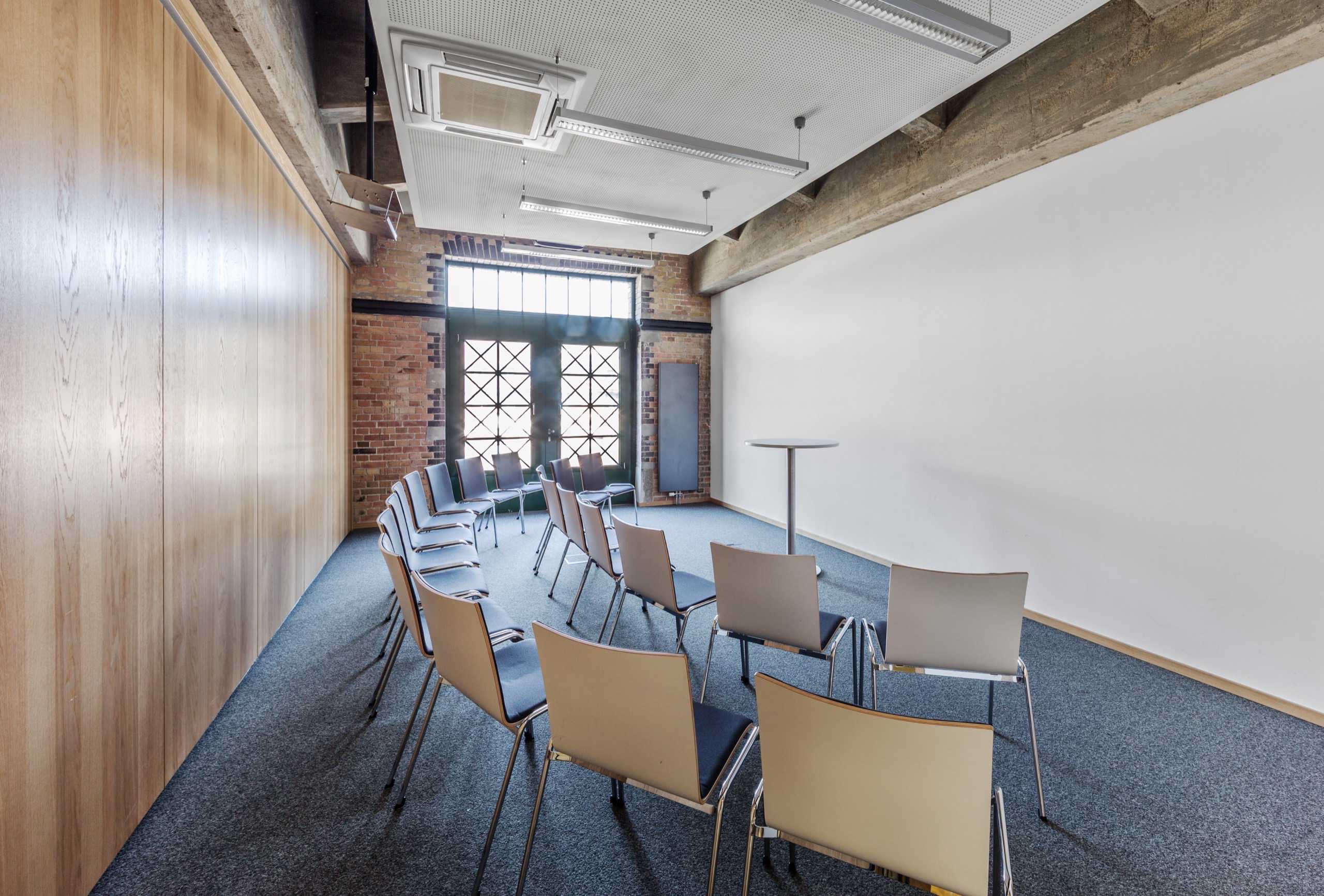 Guests will find high-tech systems across the 40 m² space. There are already connection points for projectors, laptops, screens and other modern devices in this room. This workshop leaves nothing to be desired.


Capacity
Row: 45 Pax
Parliament: 24 Pax
Banquet: inapplicable
Reception: 60 Pax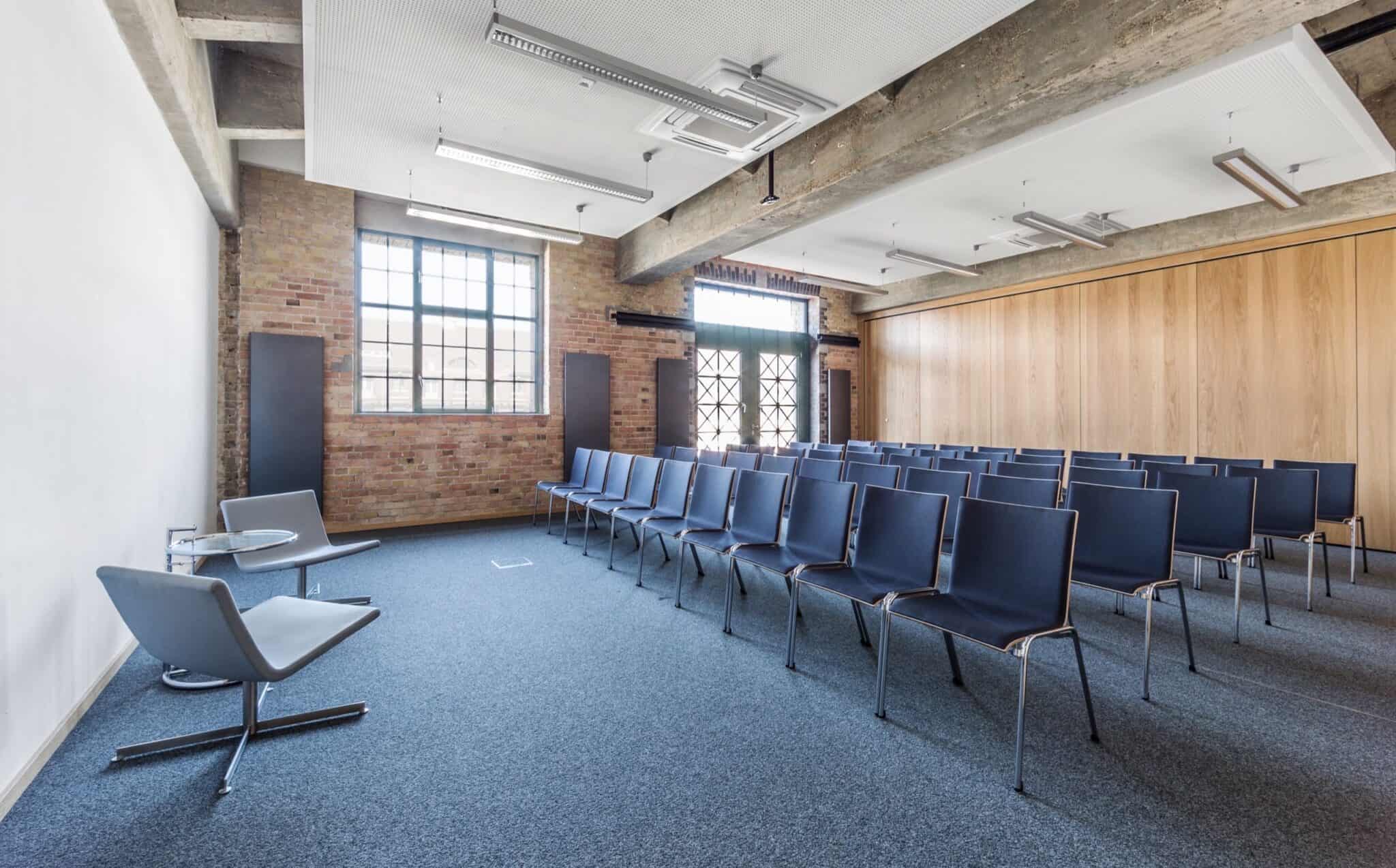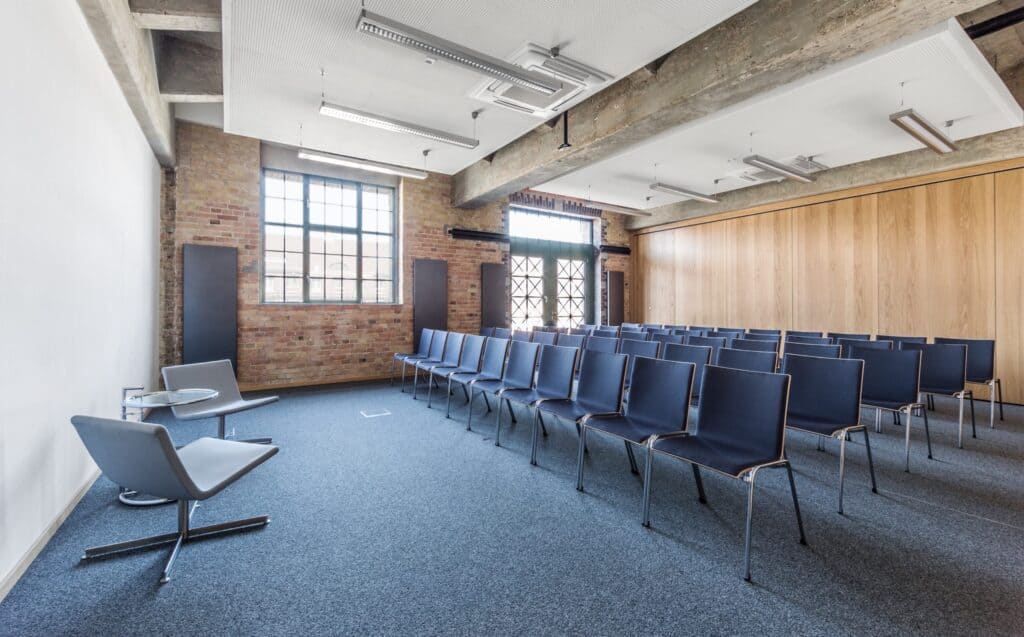 Der größte Einzelworkshopraum hat eine Grundfläche von 60 m². Ob Sitzungen in klassischer U-Form oder eine Reihenbestuhlung, dieser Raum erfüllt alle Anforderungen an einen modernen Workshopraum.


Capacity
Row: 65 Pax
Parliament: 40 Pax
Banquet: inapplicable
Reception: 75 Pax

WE ARE LOOKING FORWARD TO YOUR EVENT
IMPRESSIONS FROM THE WECC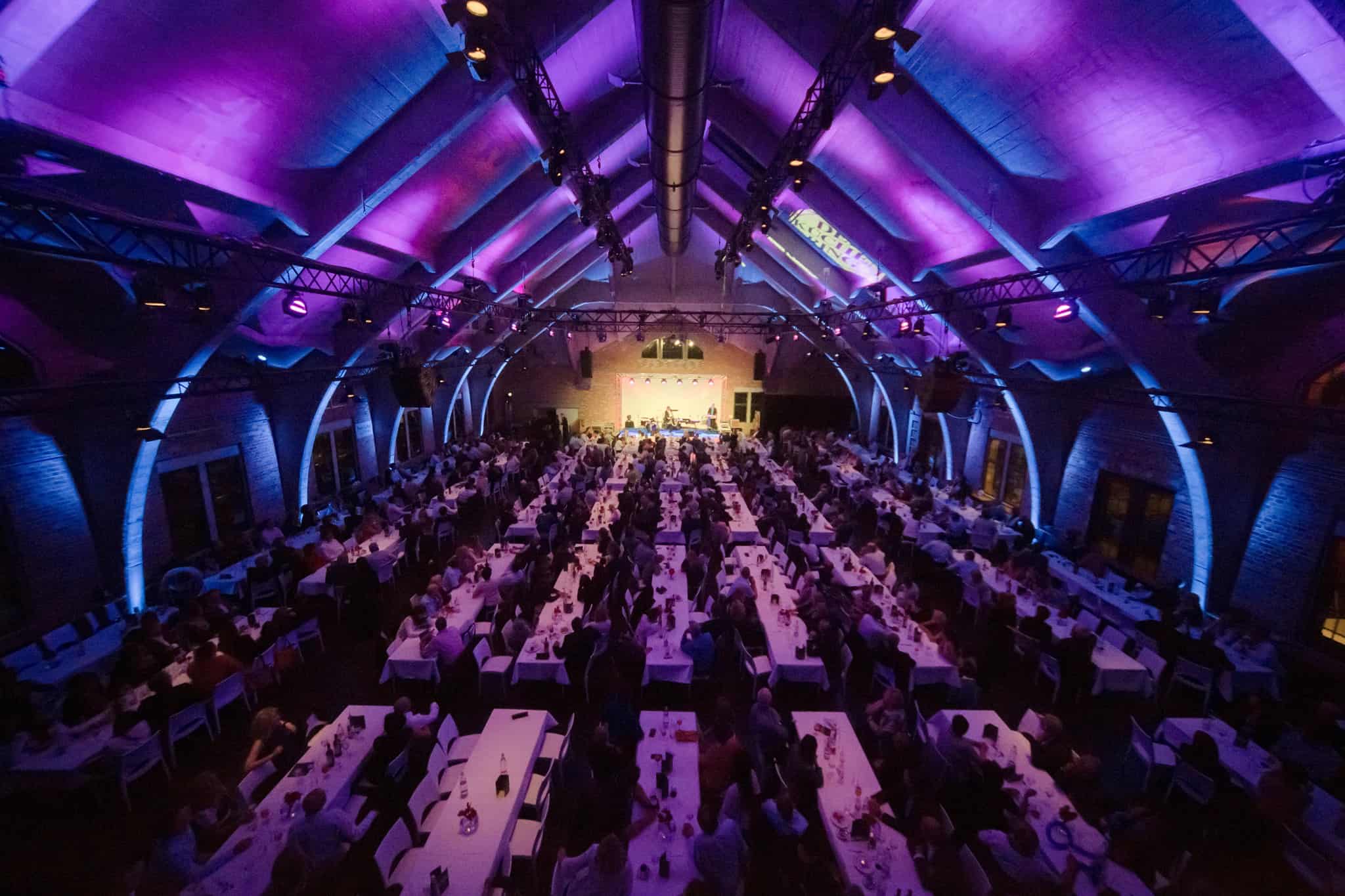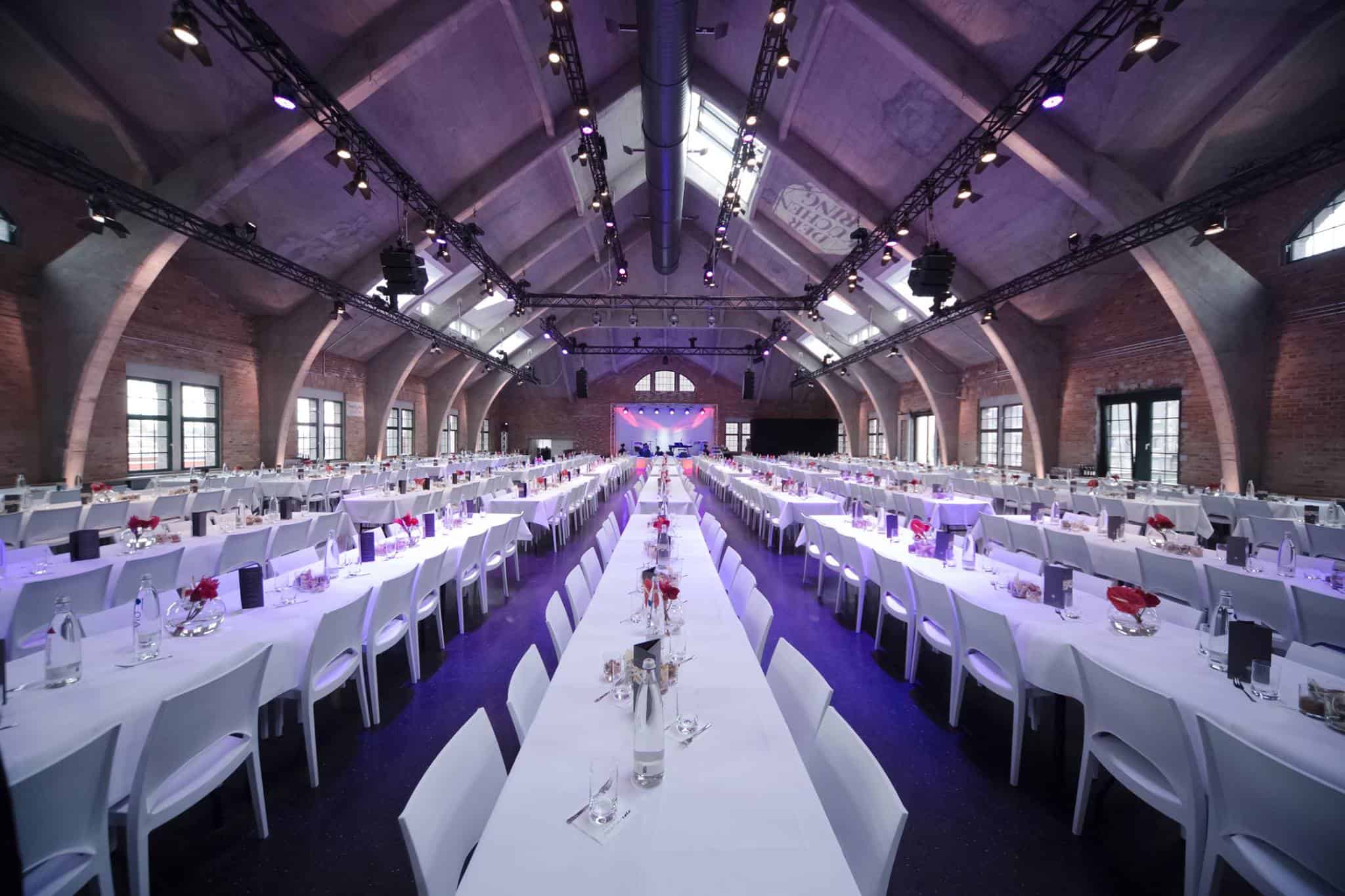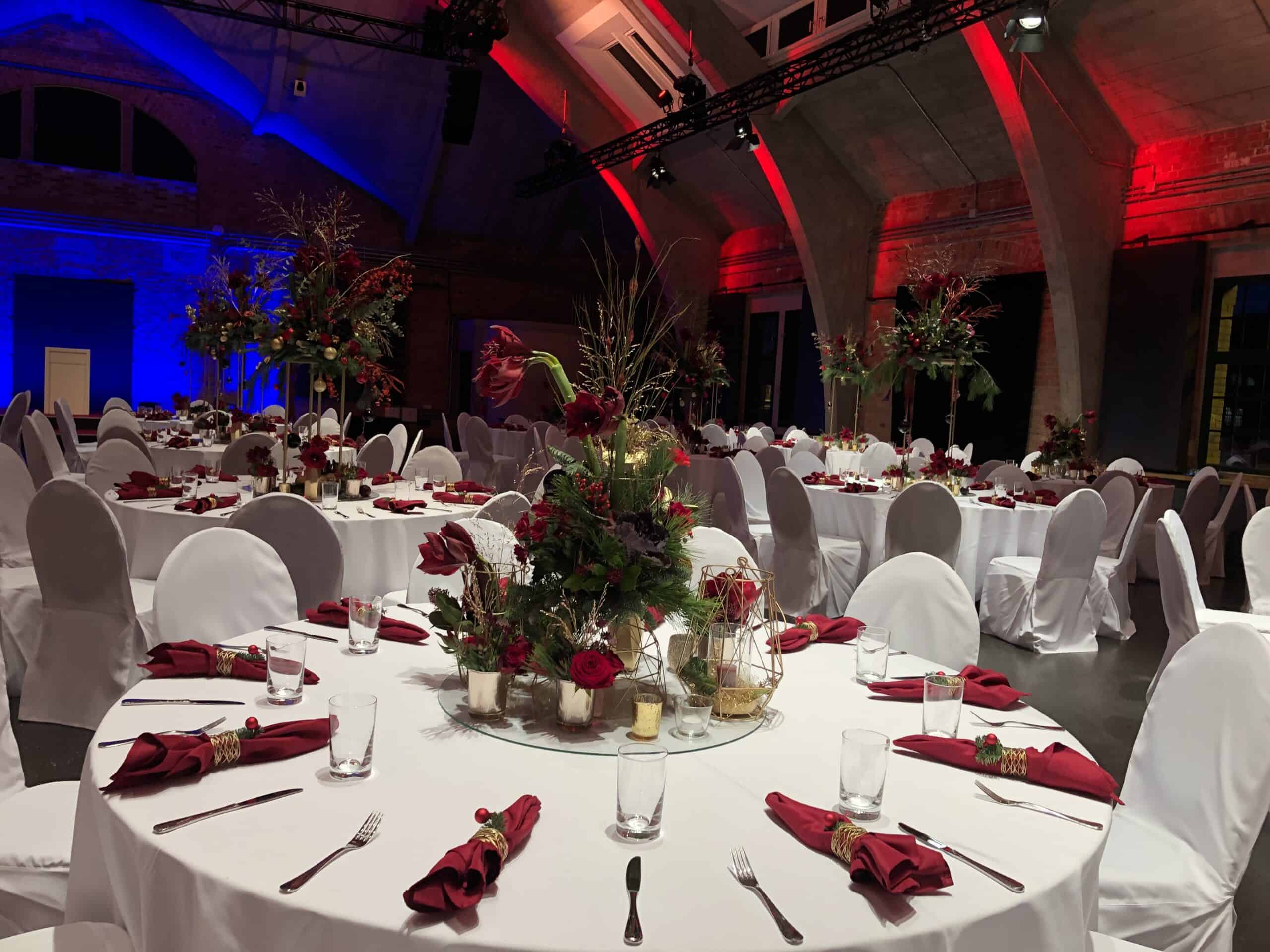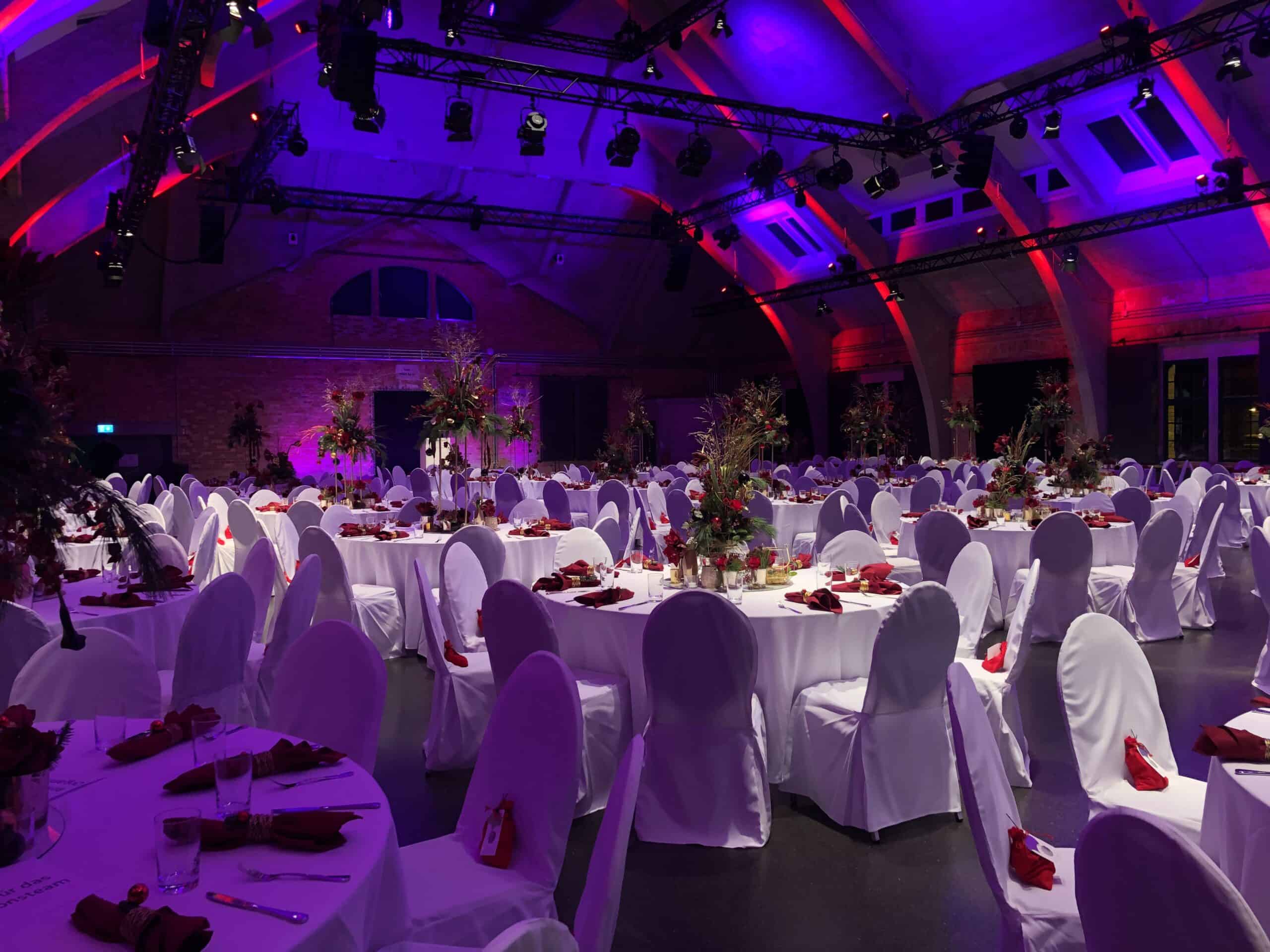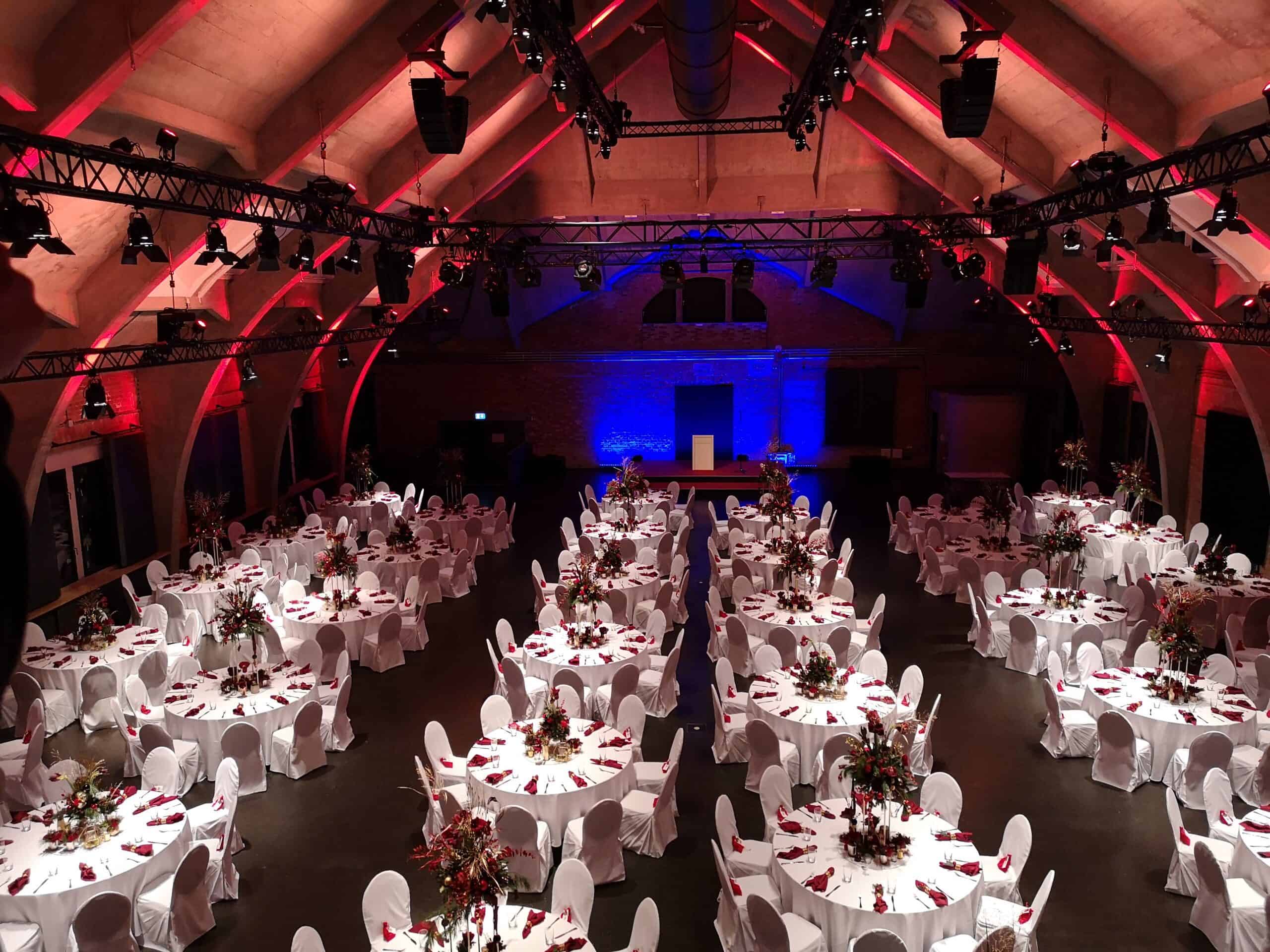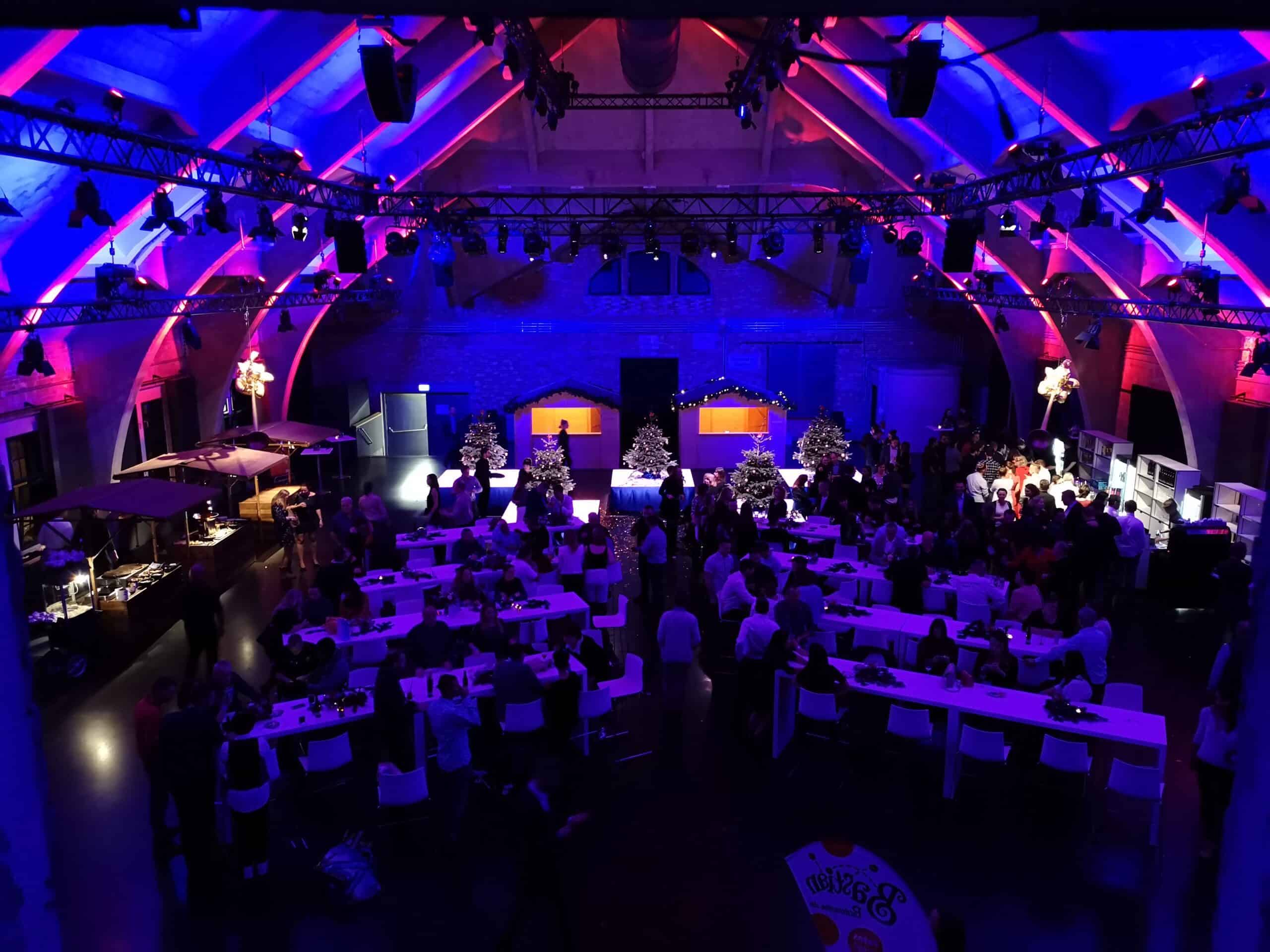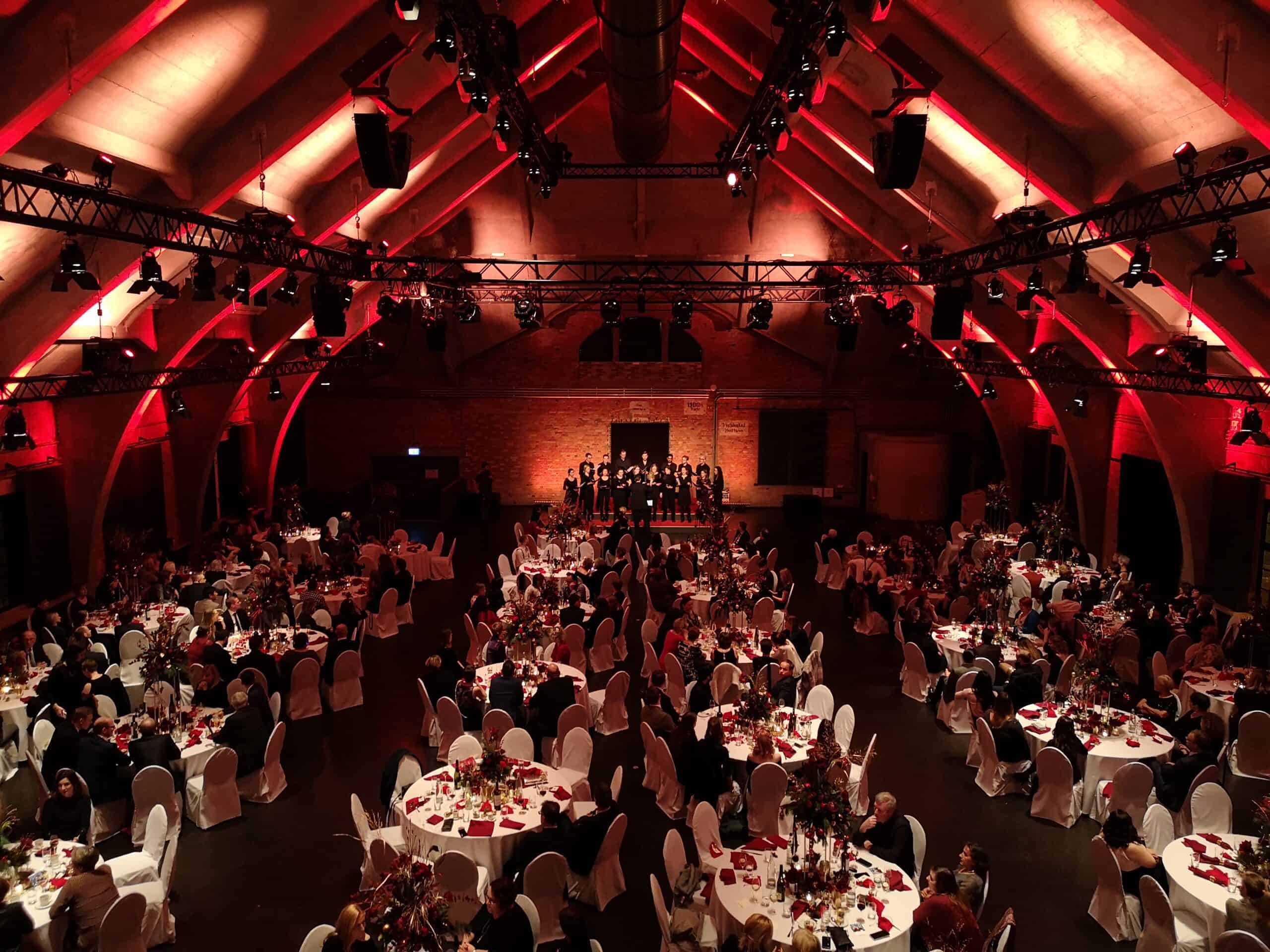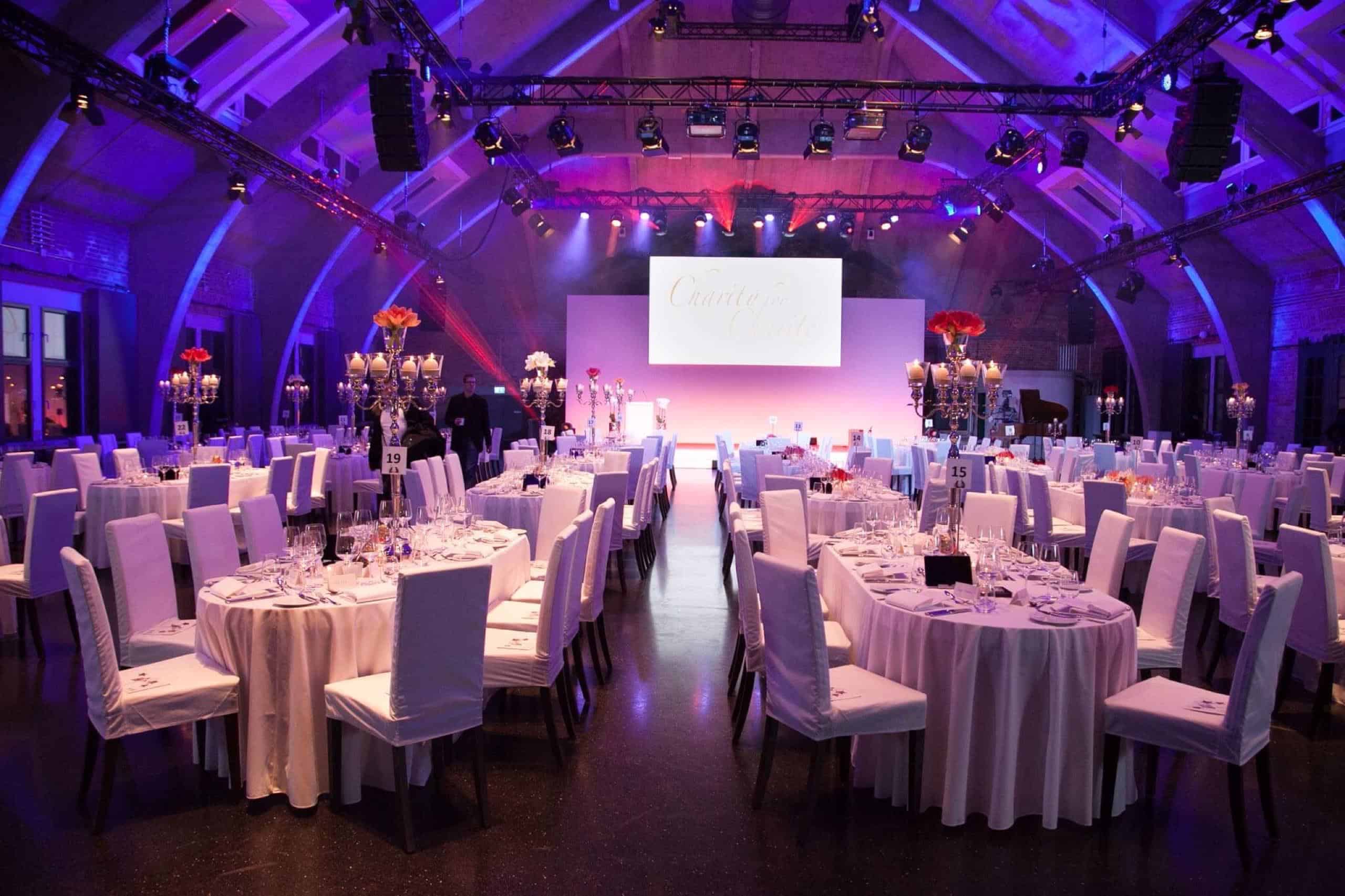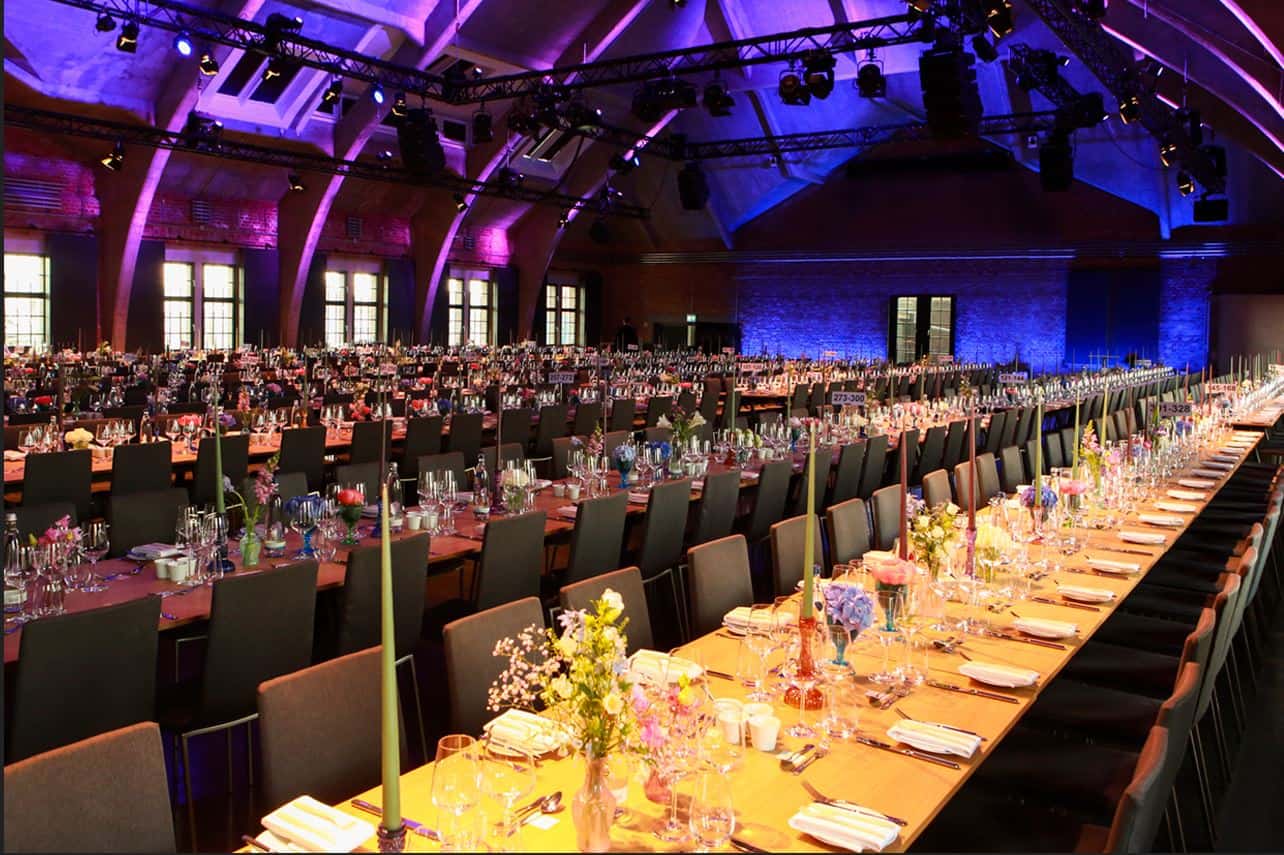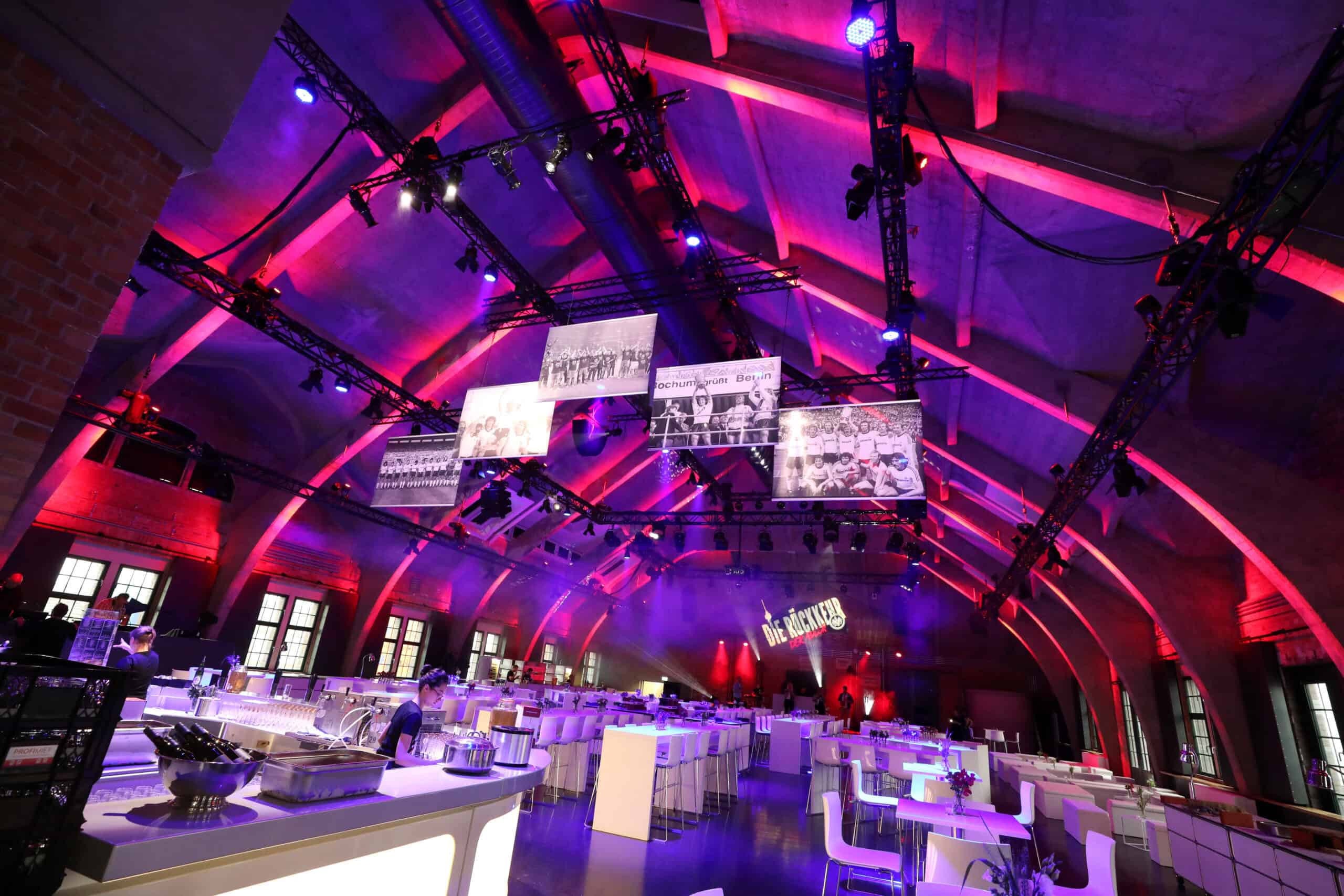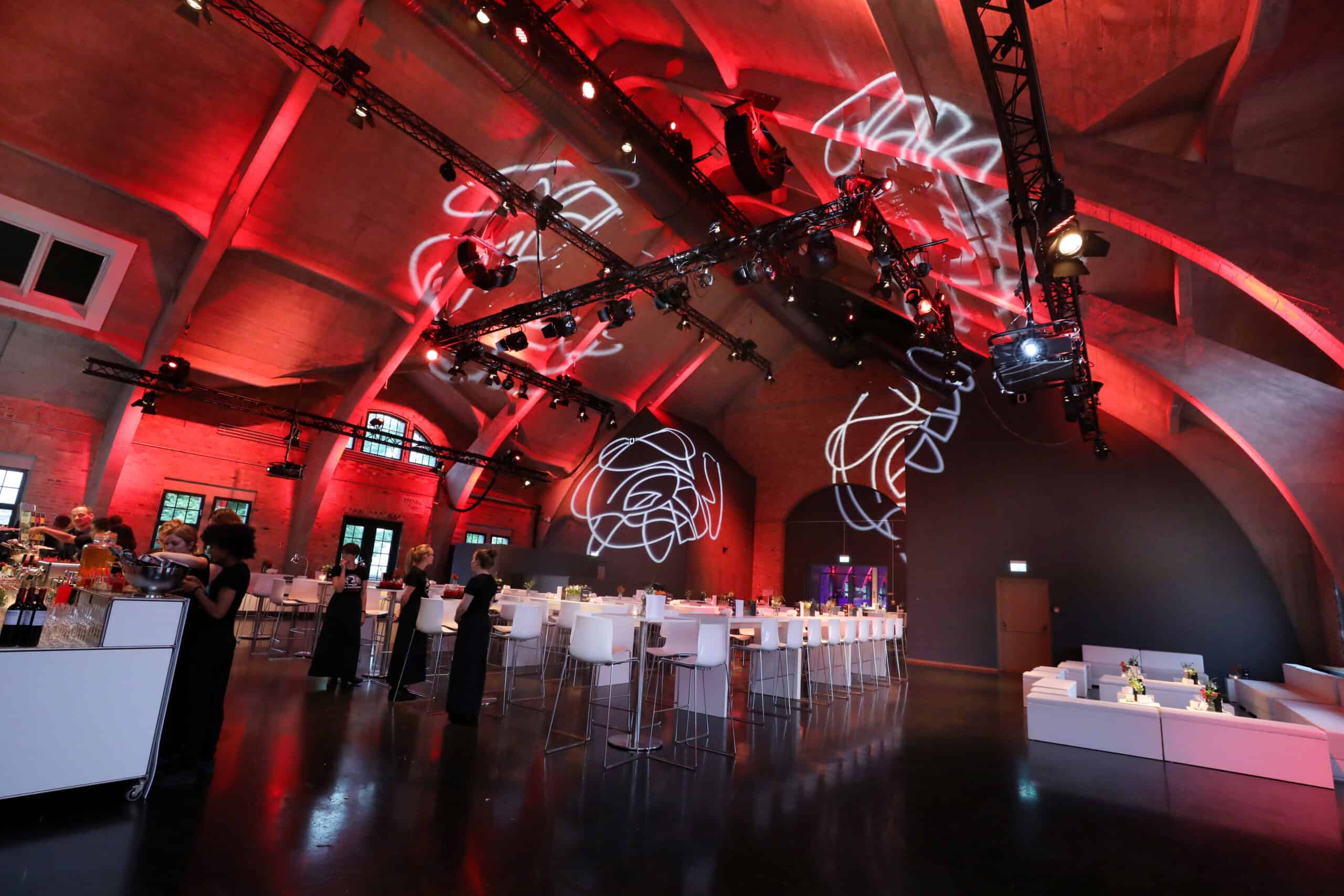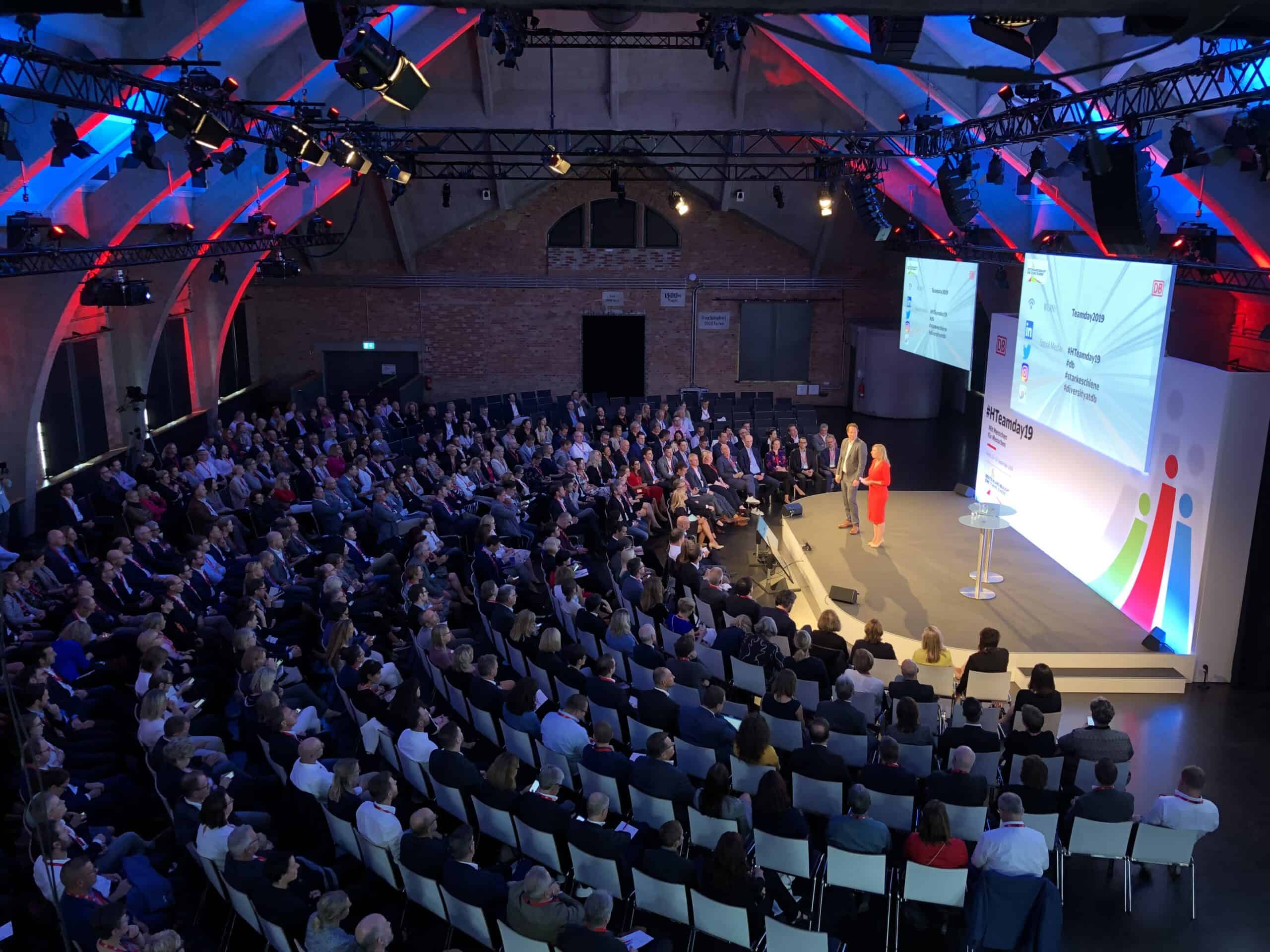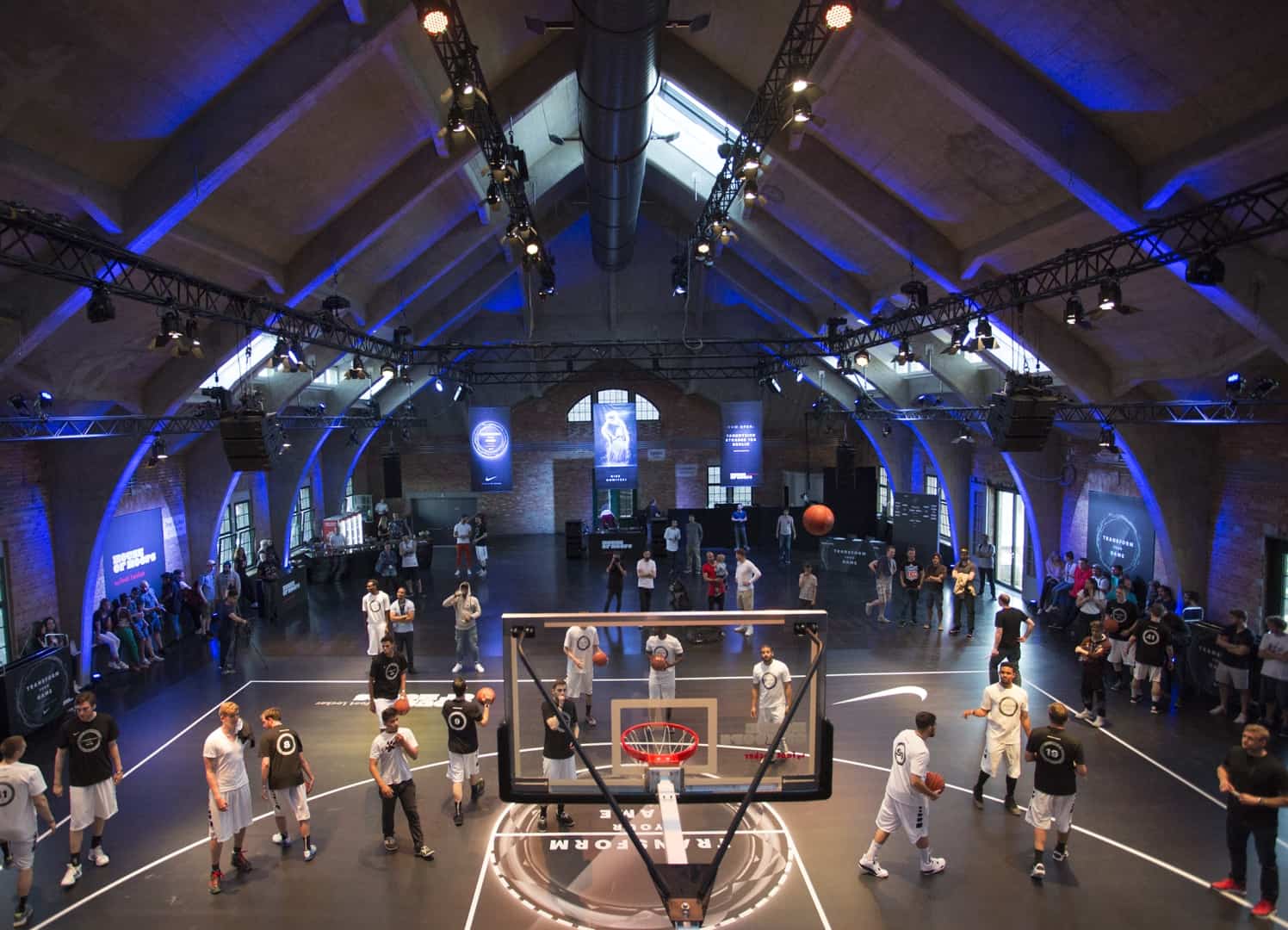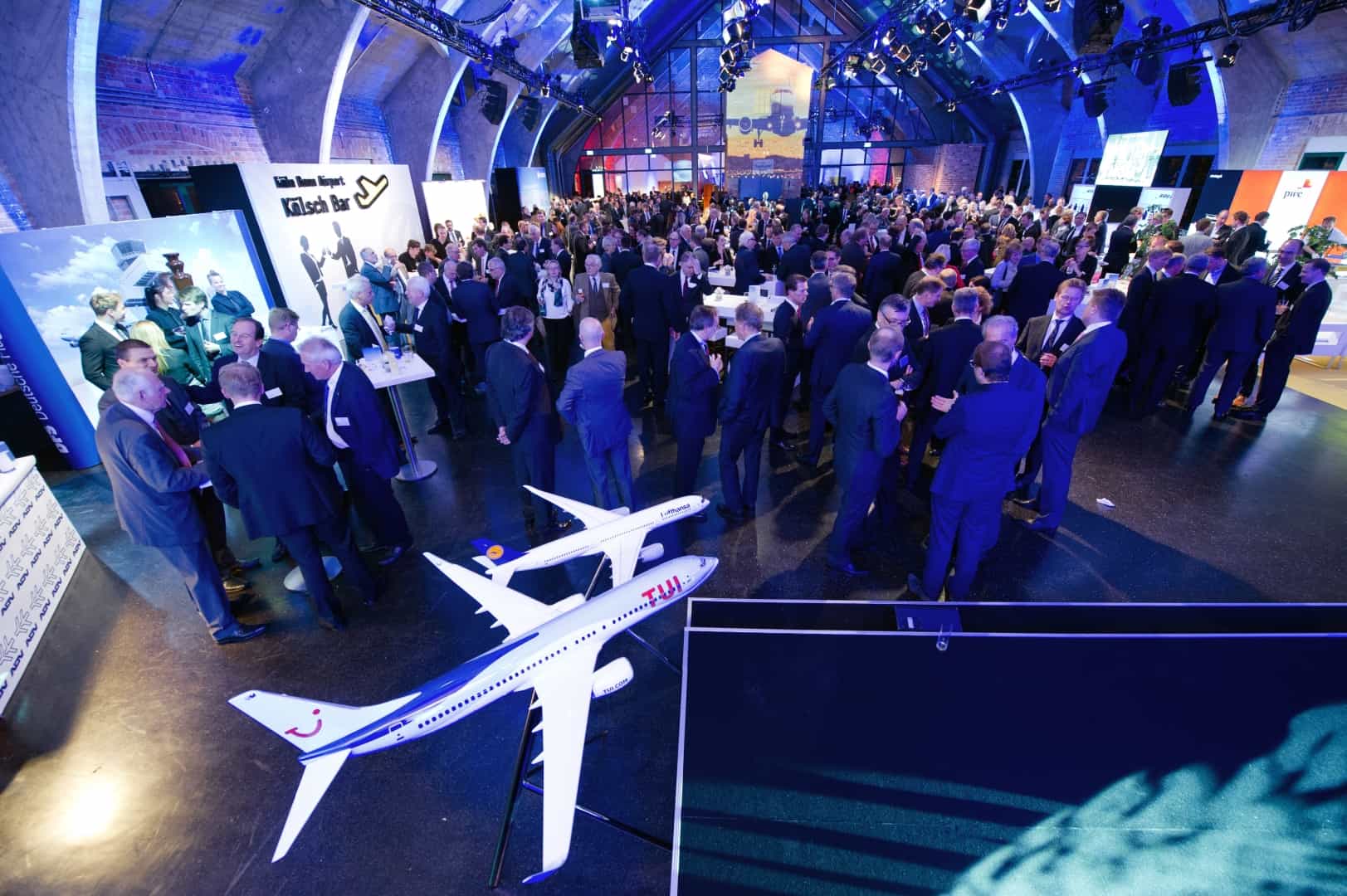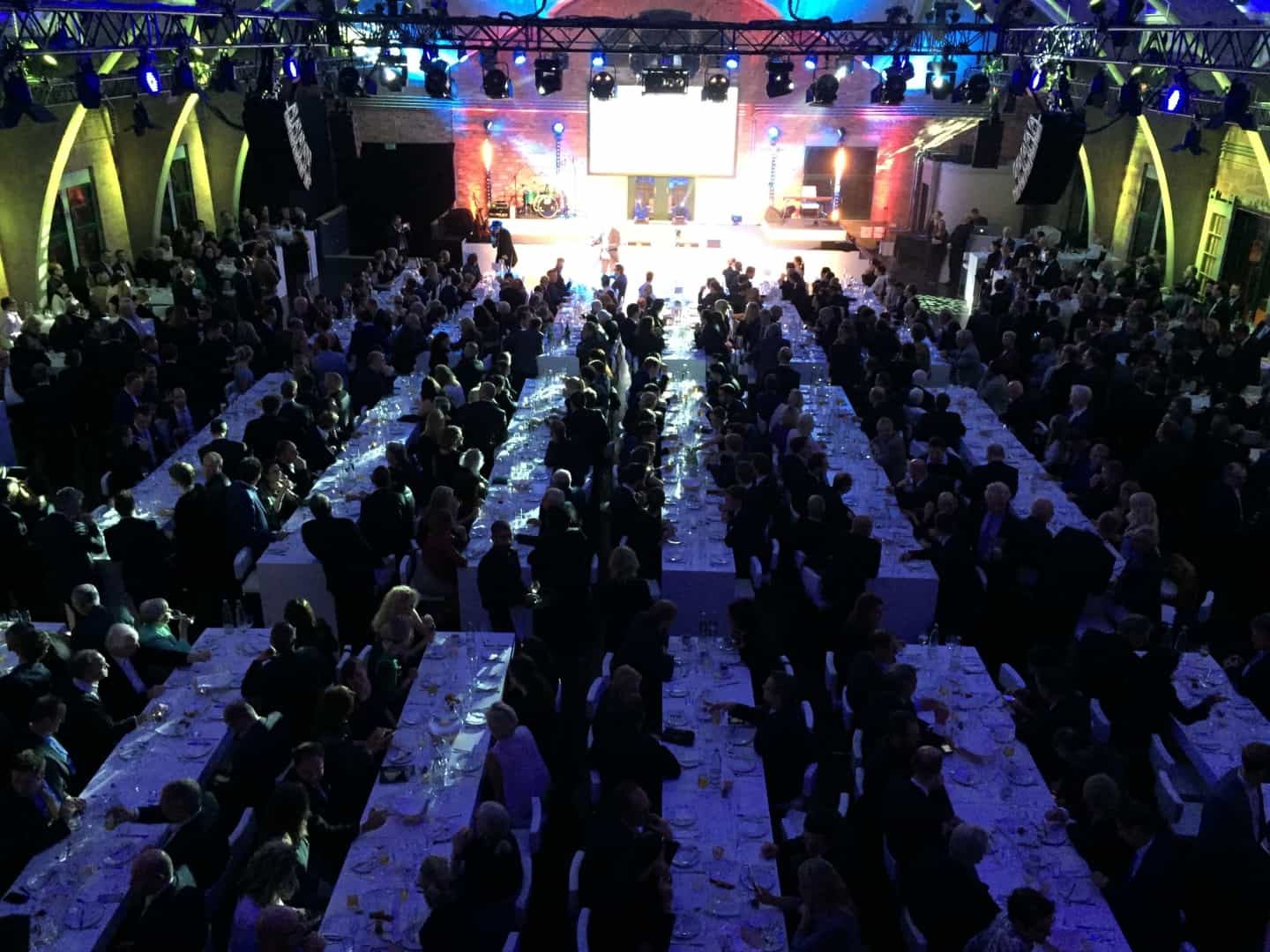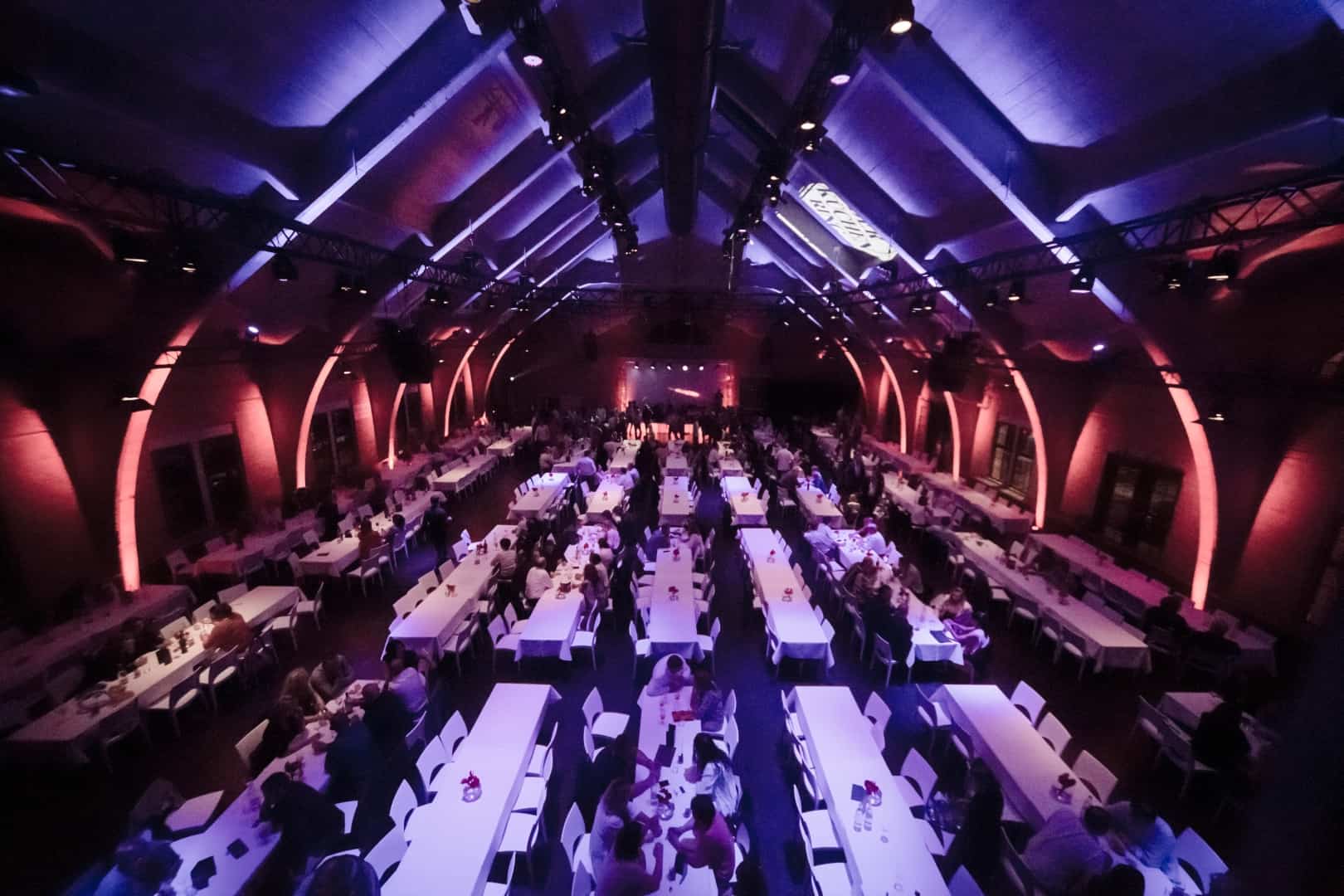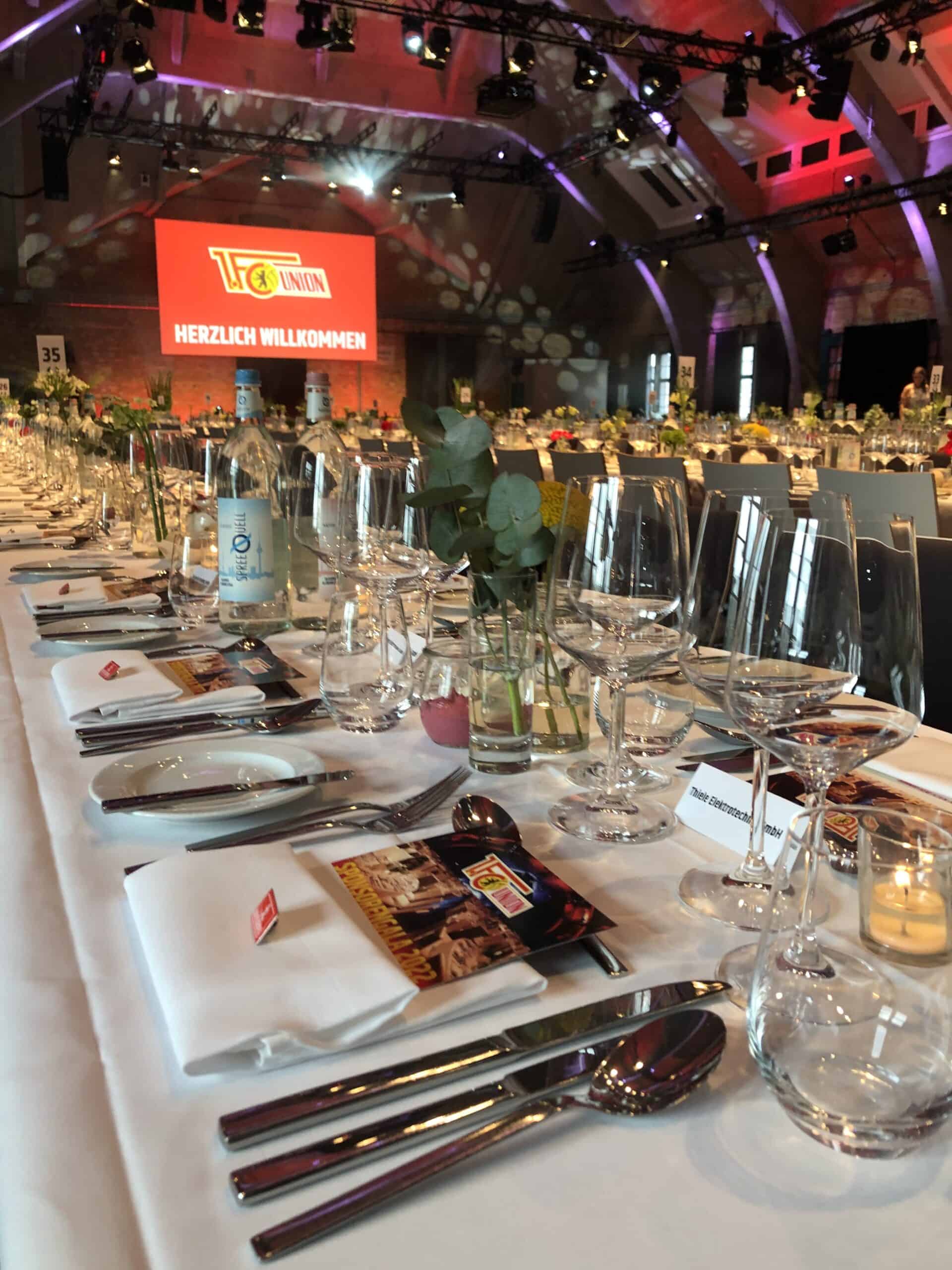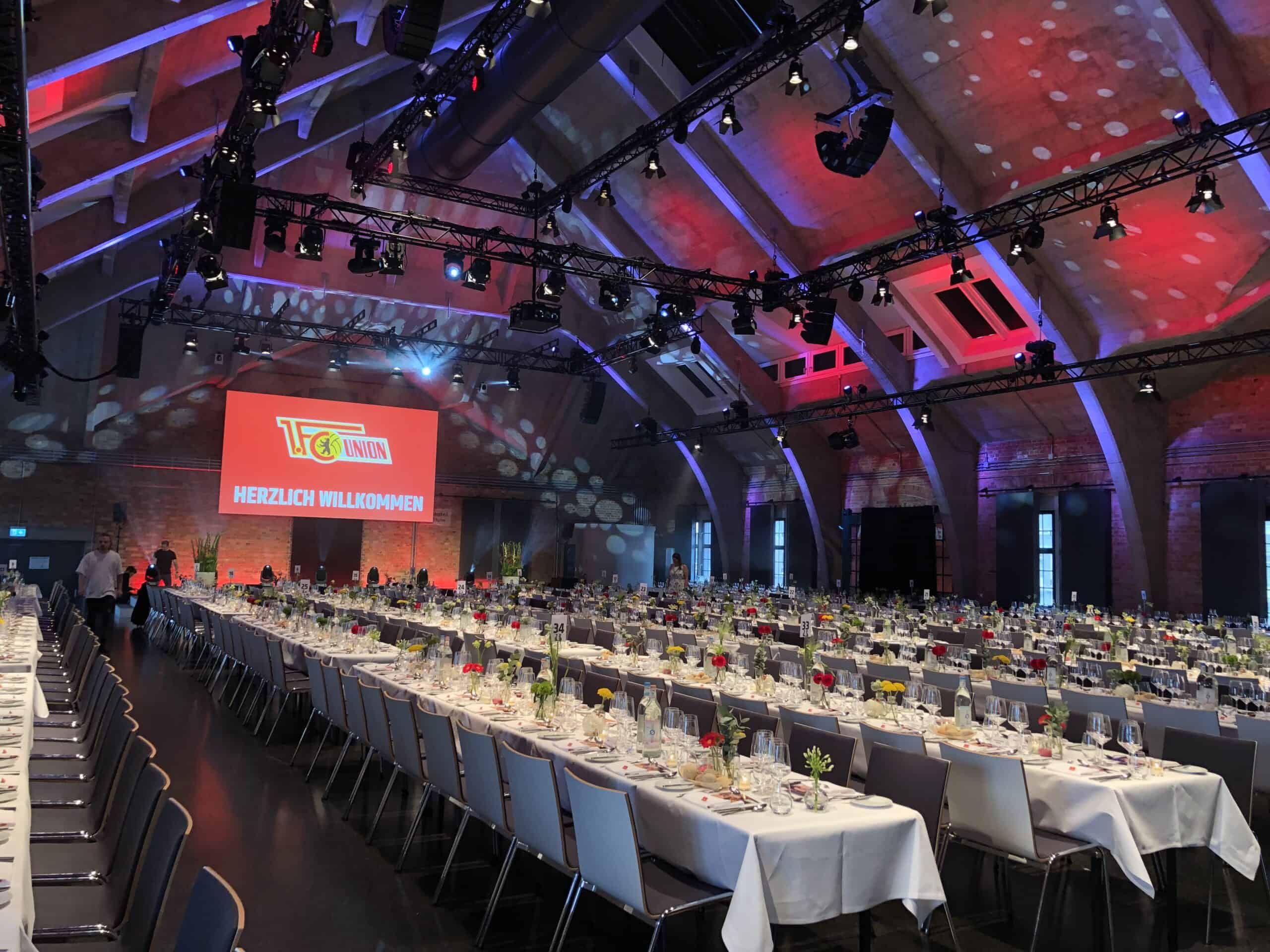 EVENT-MAKING-OF VIDEO BY 40 SECONDS
WECC - LOCATION DESCRIPTION AND
HISTORY OF THE WESTHAFEN IN BERLIN
IMPRESSIONS FROM THE WECC
Outdoor area, Live-Cooking, Get-Together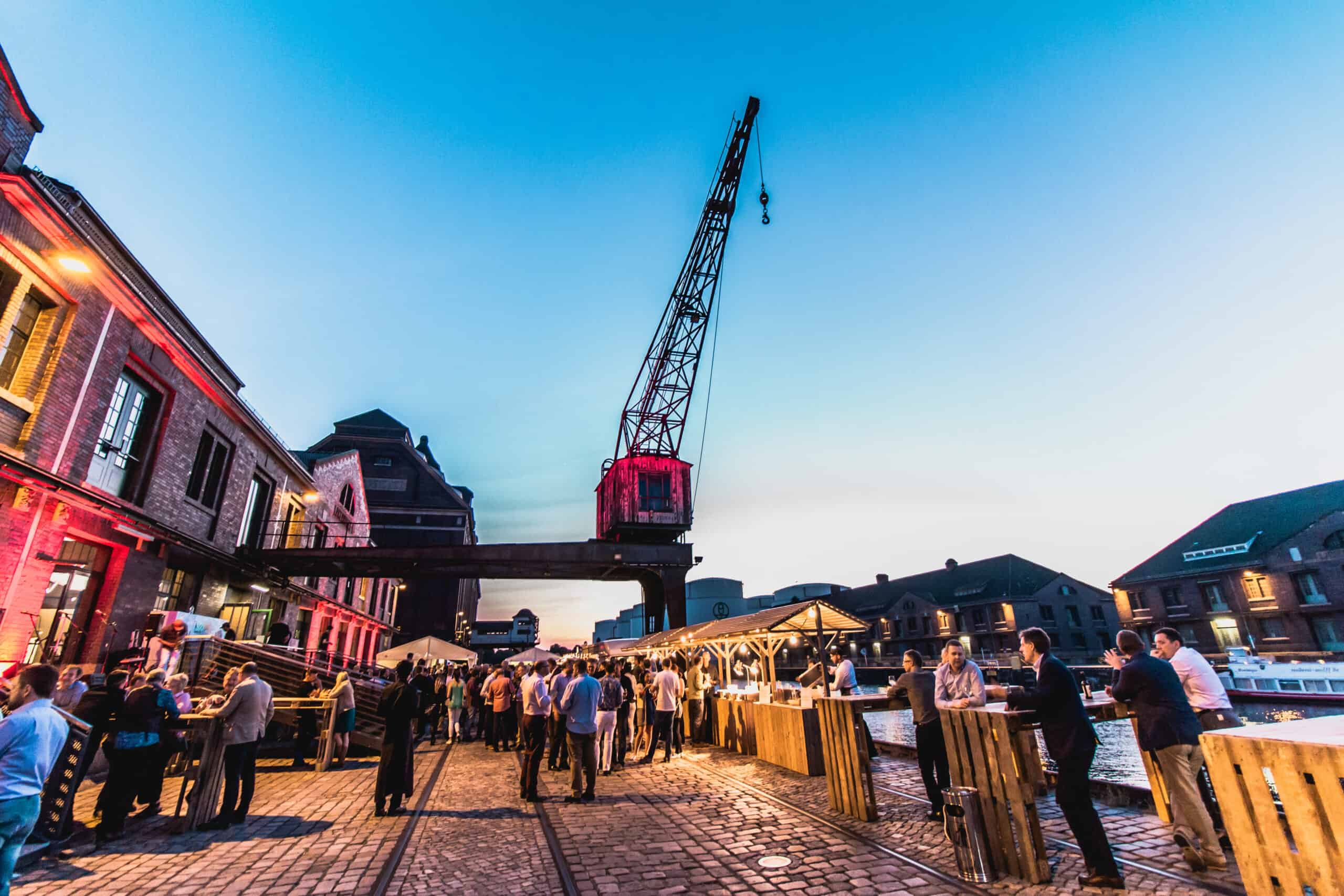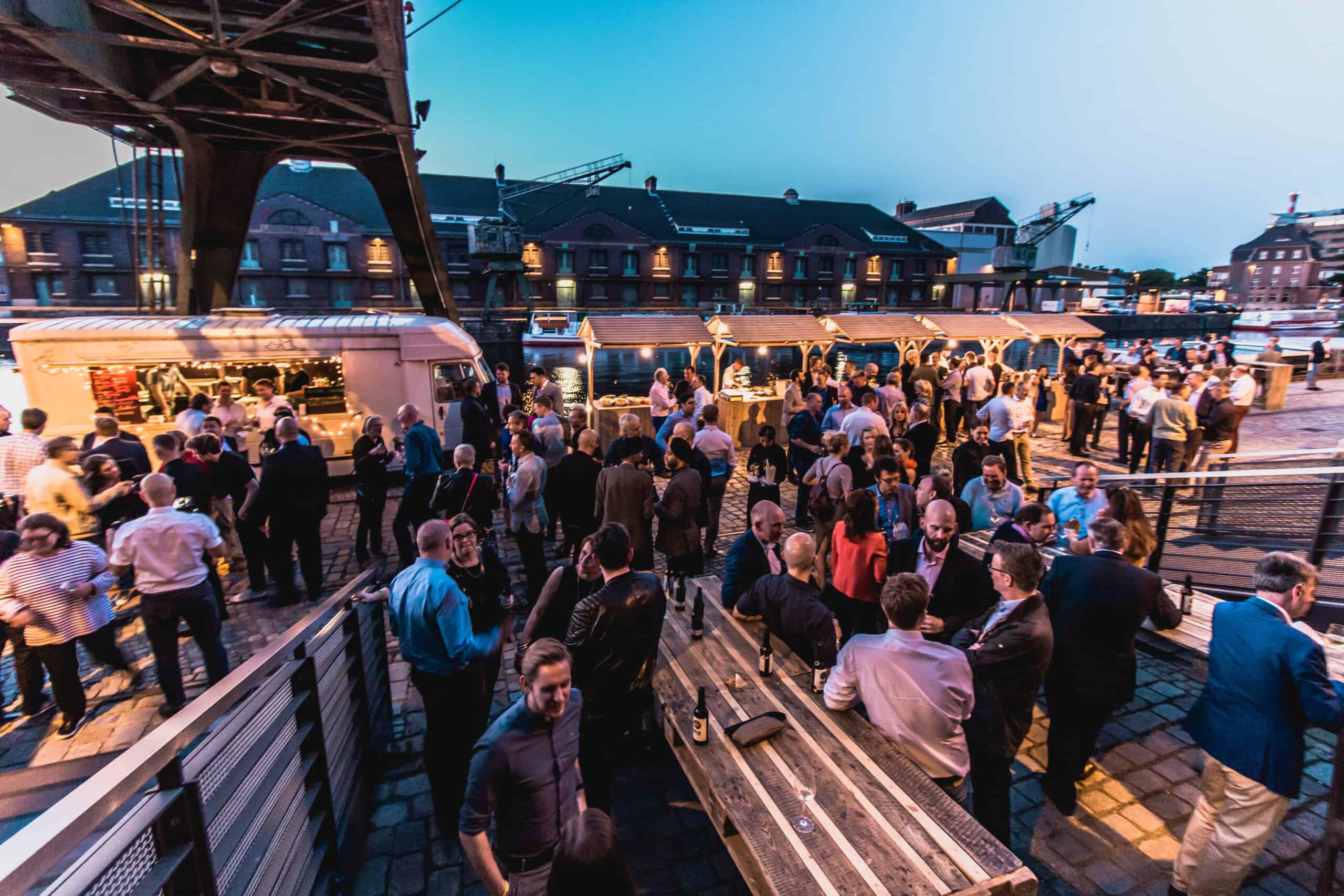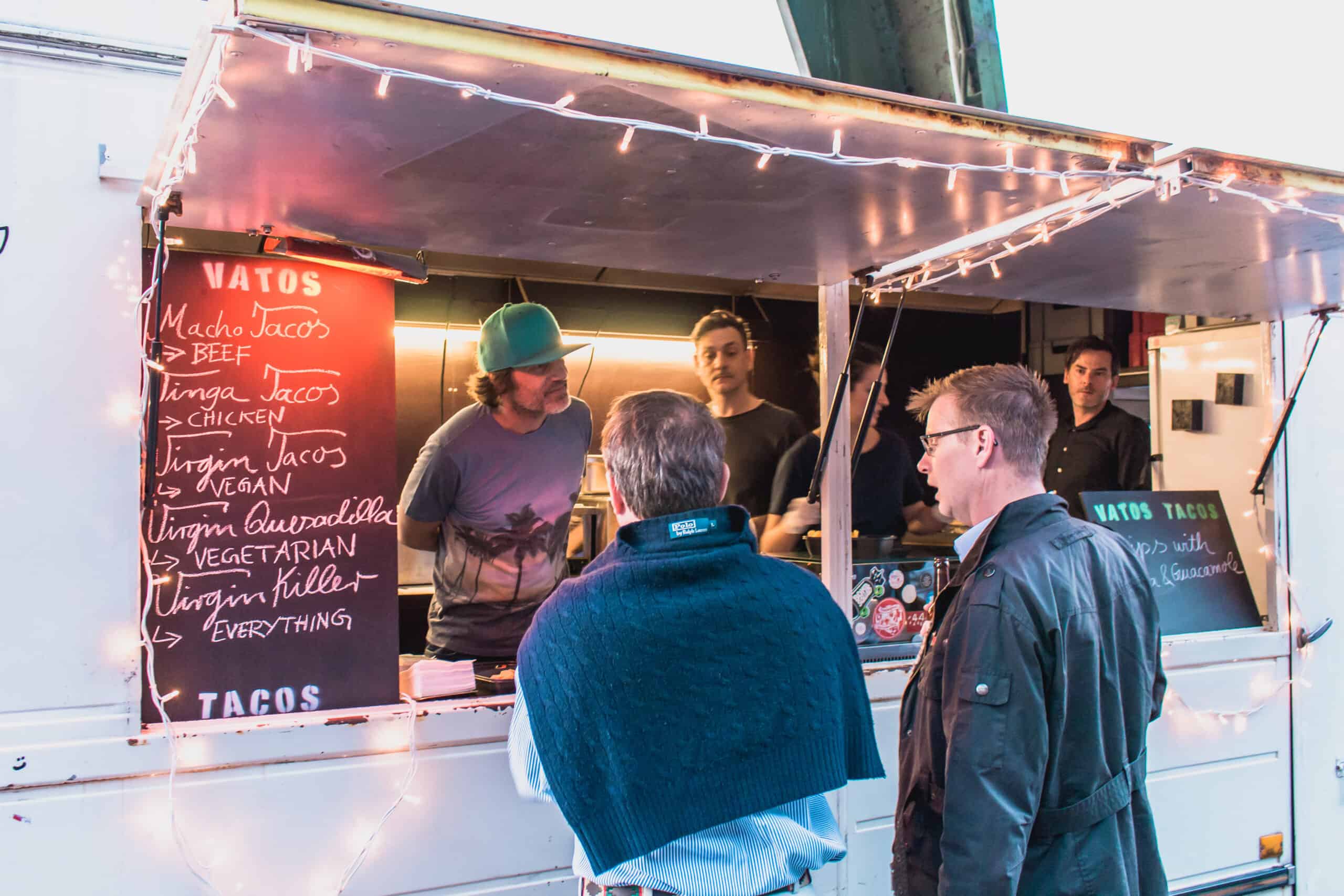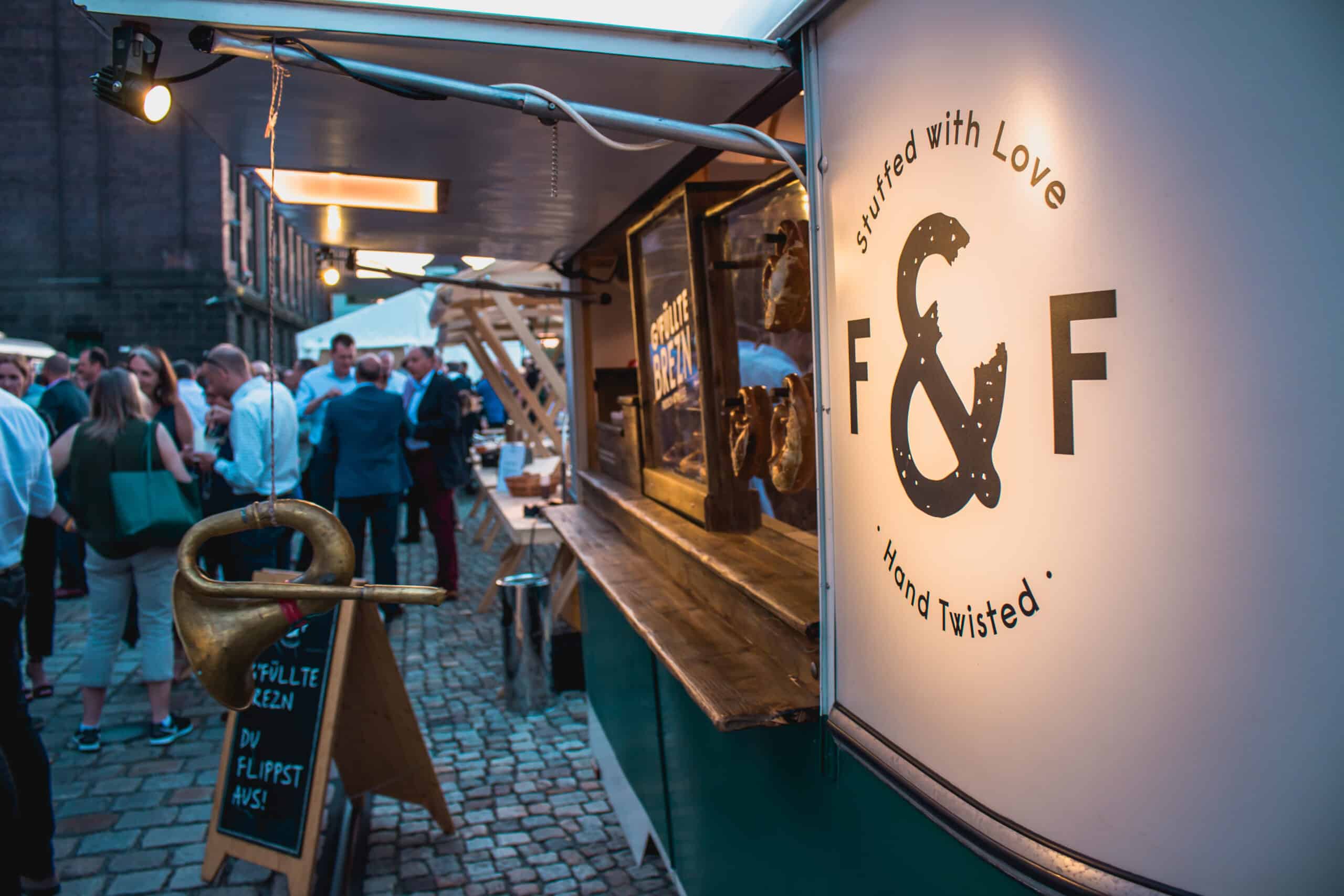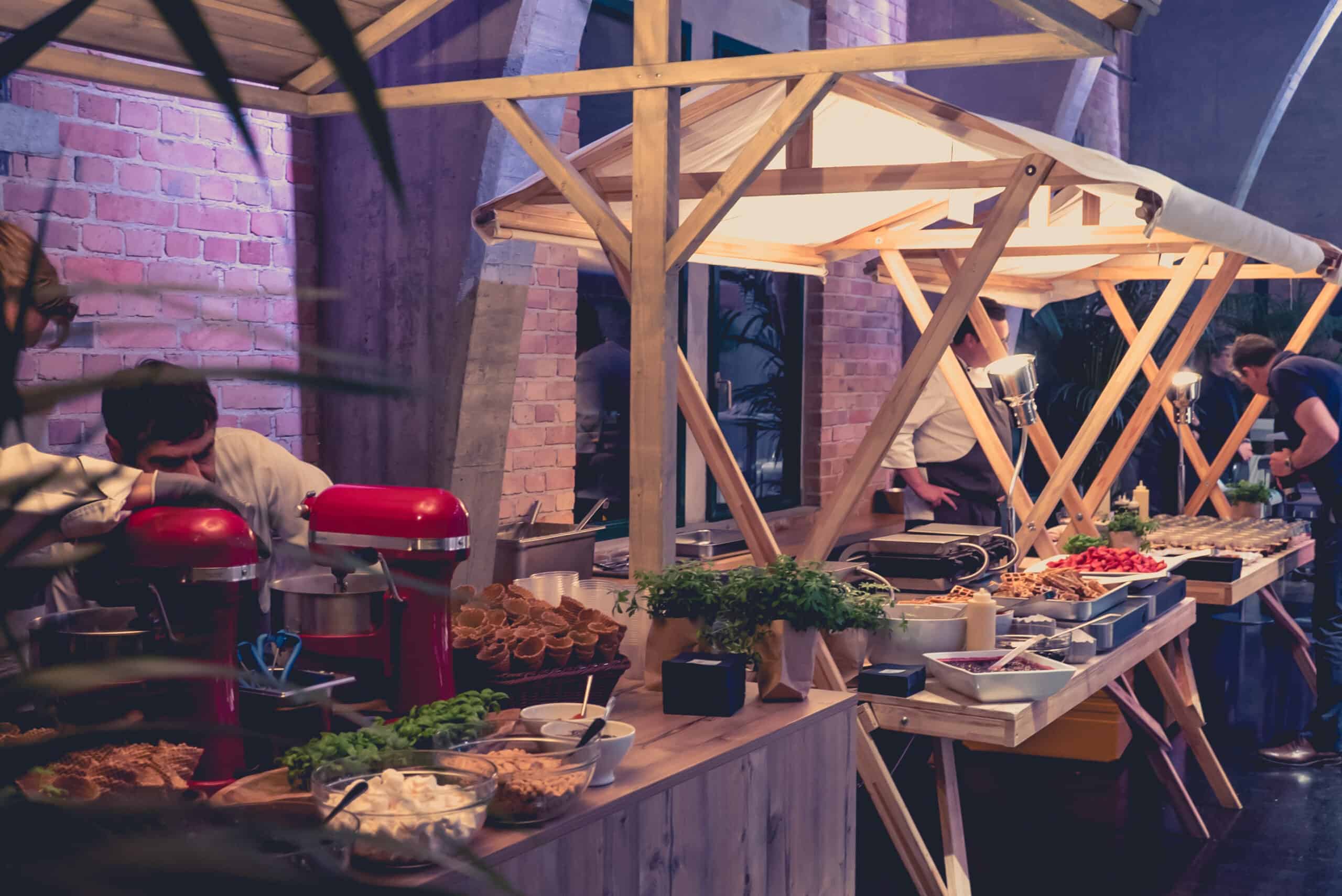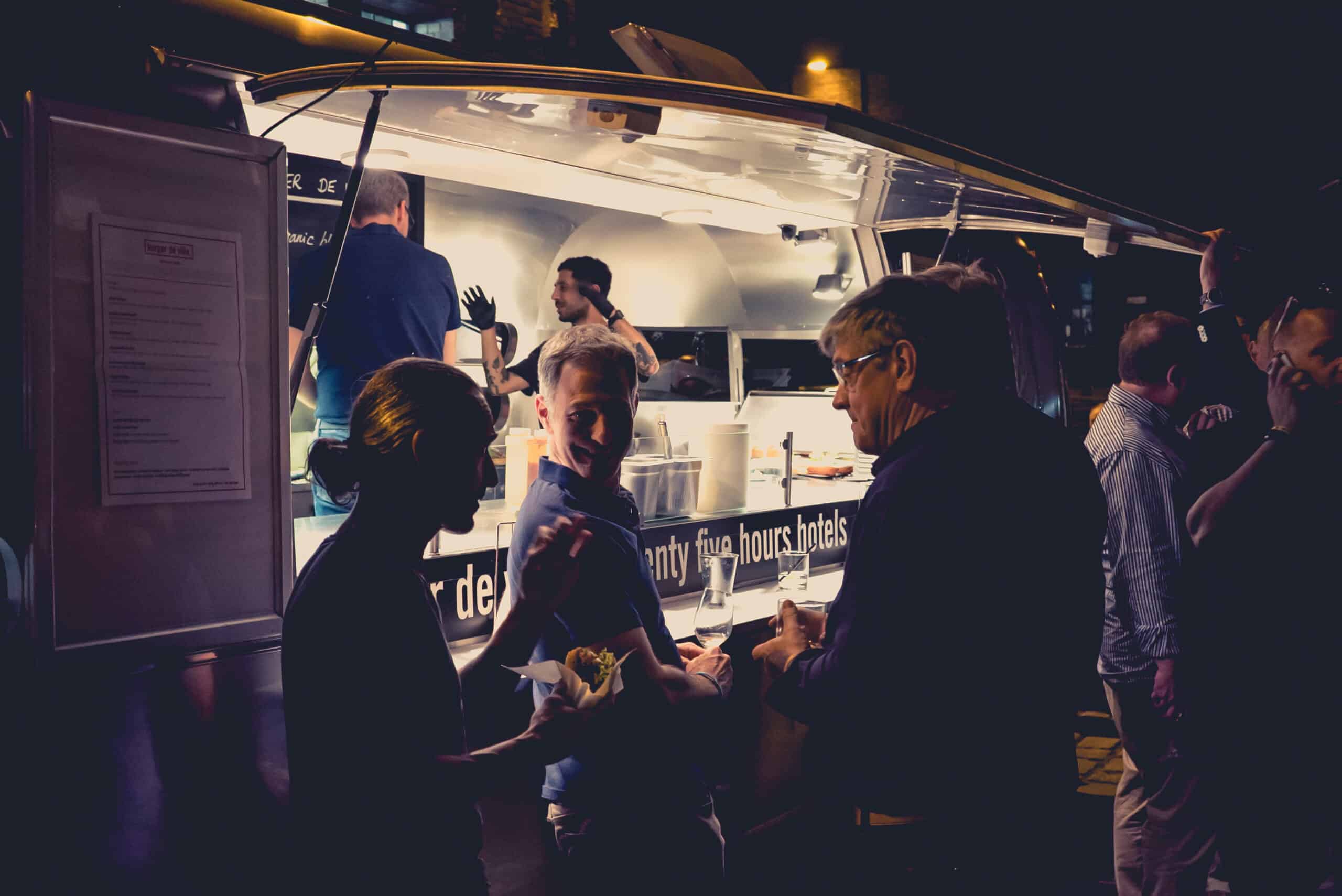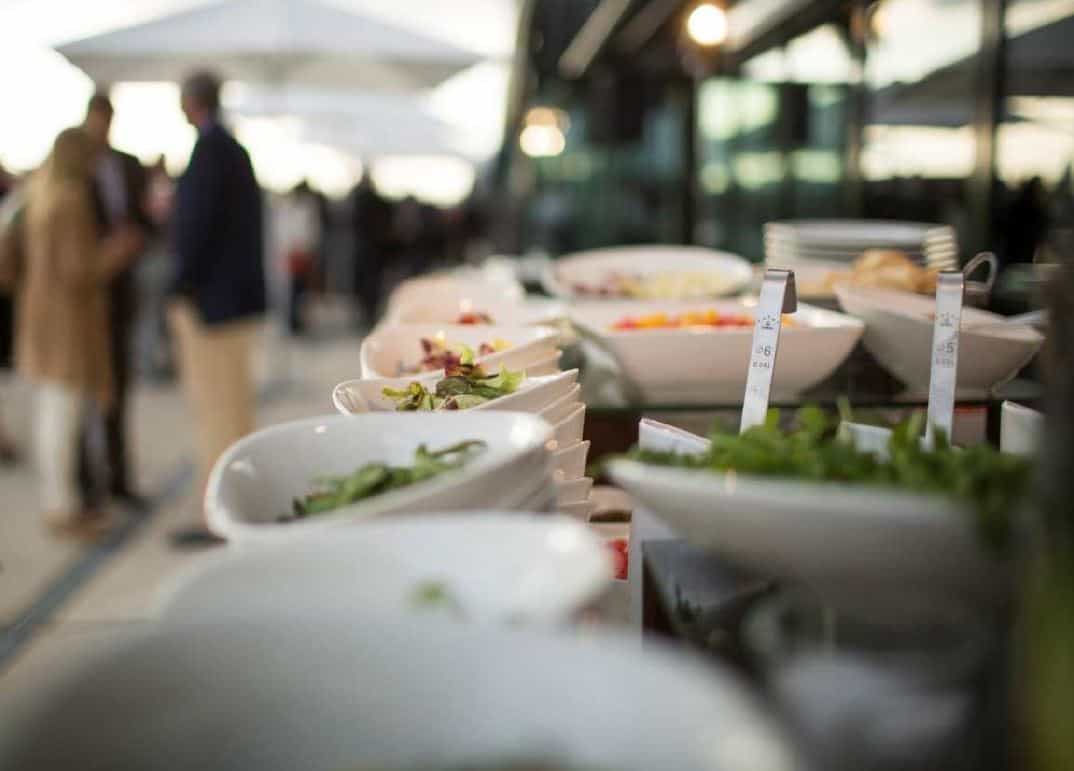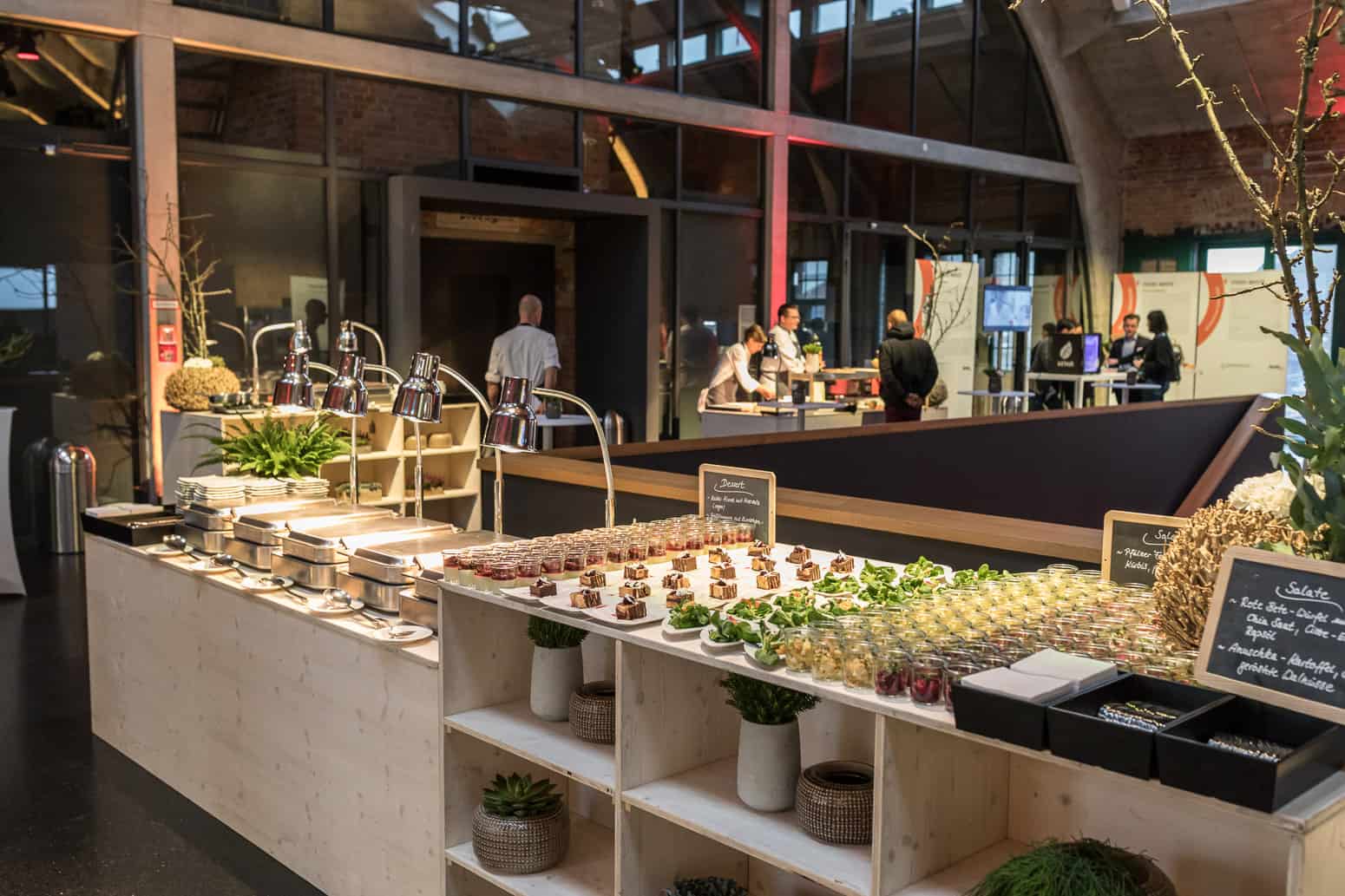 PRESENTATION OF THE COALITION
AGREEMENT OF THE FUTURE FEDERAL
GOVERNMENT AT THE WECC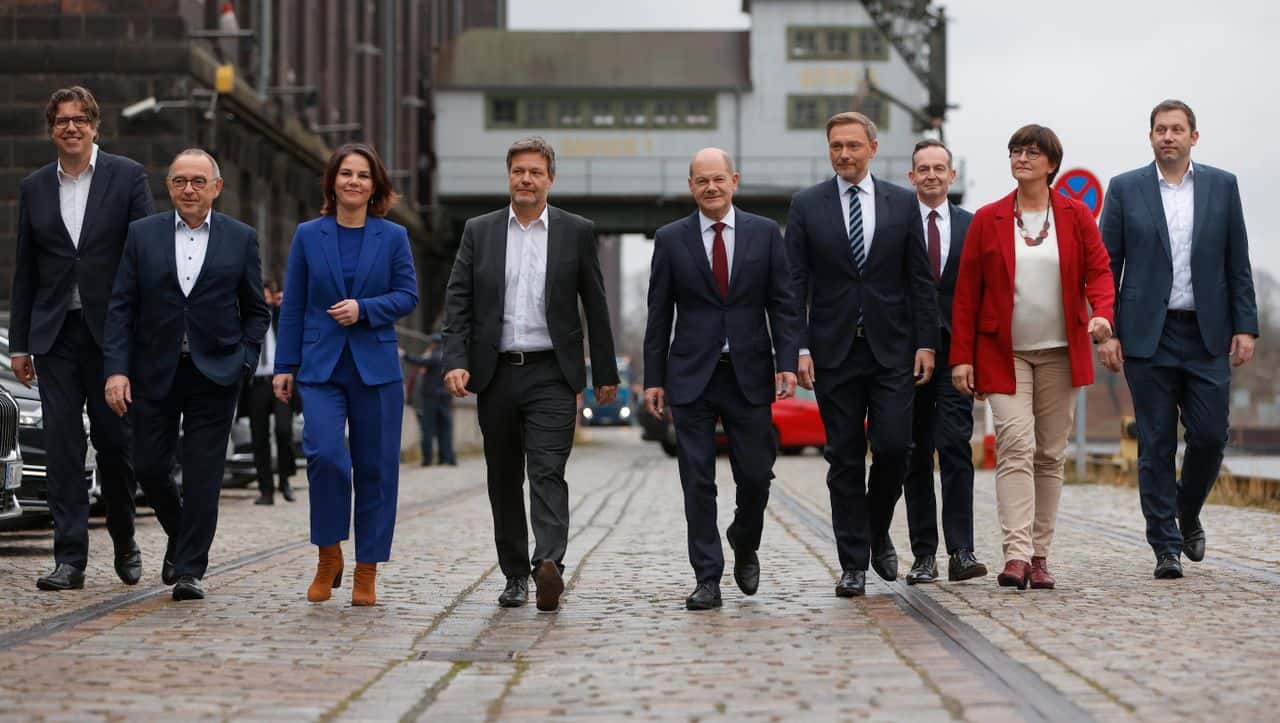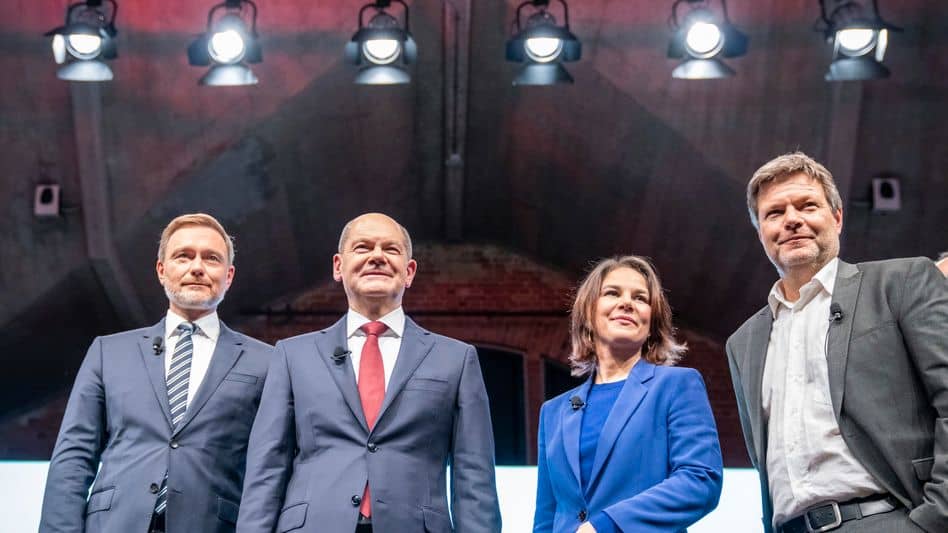 G7 INTERNATIONAL EXPERT CONFERENCE ON UKRAINE
RECONSTRUCTION AT THE WECC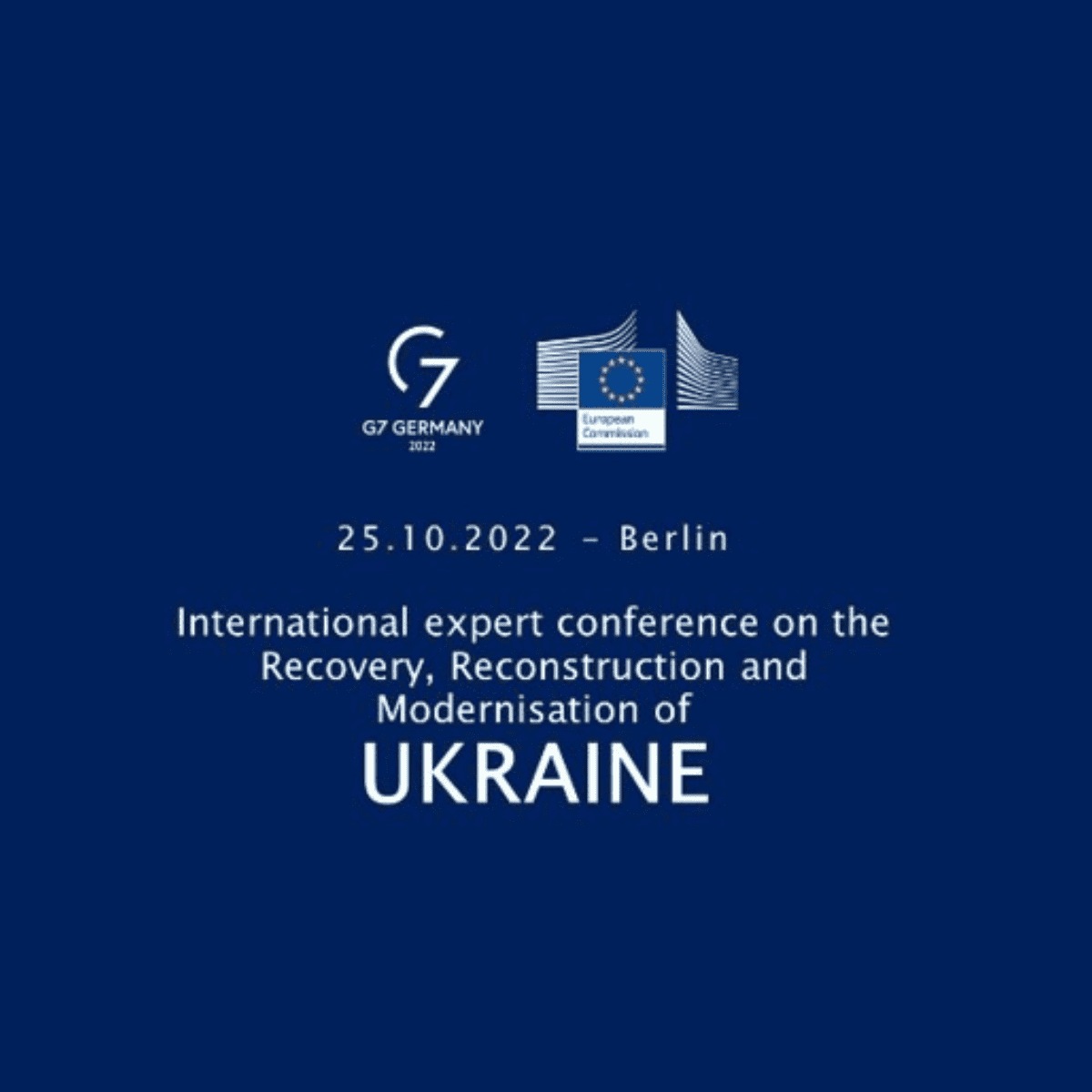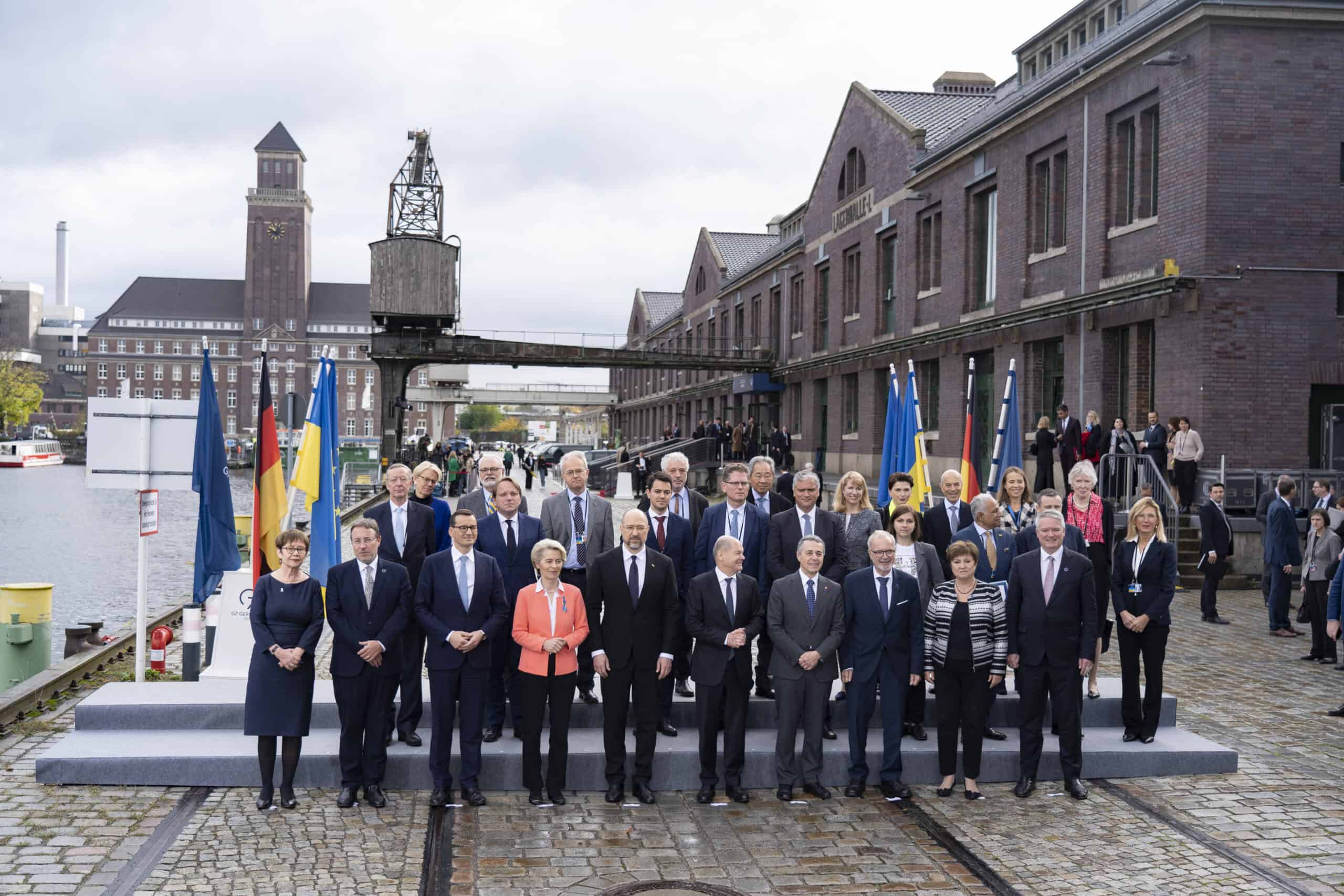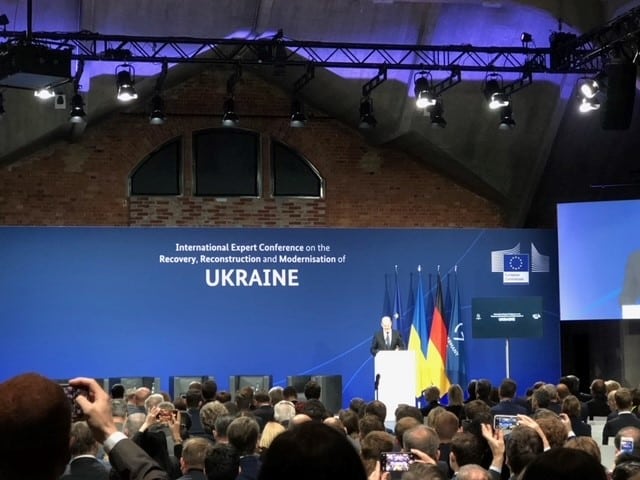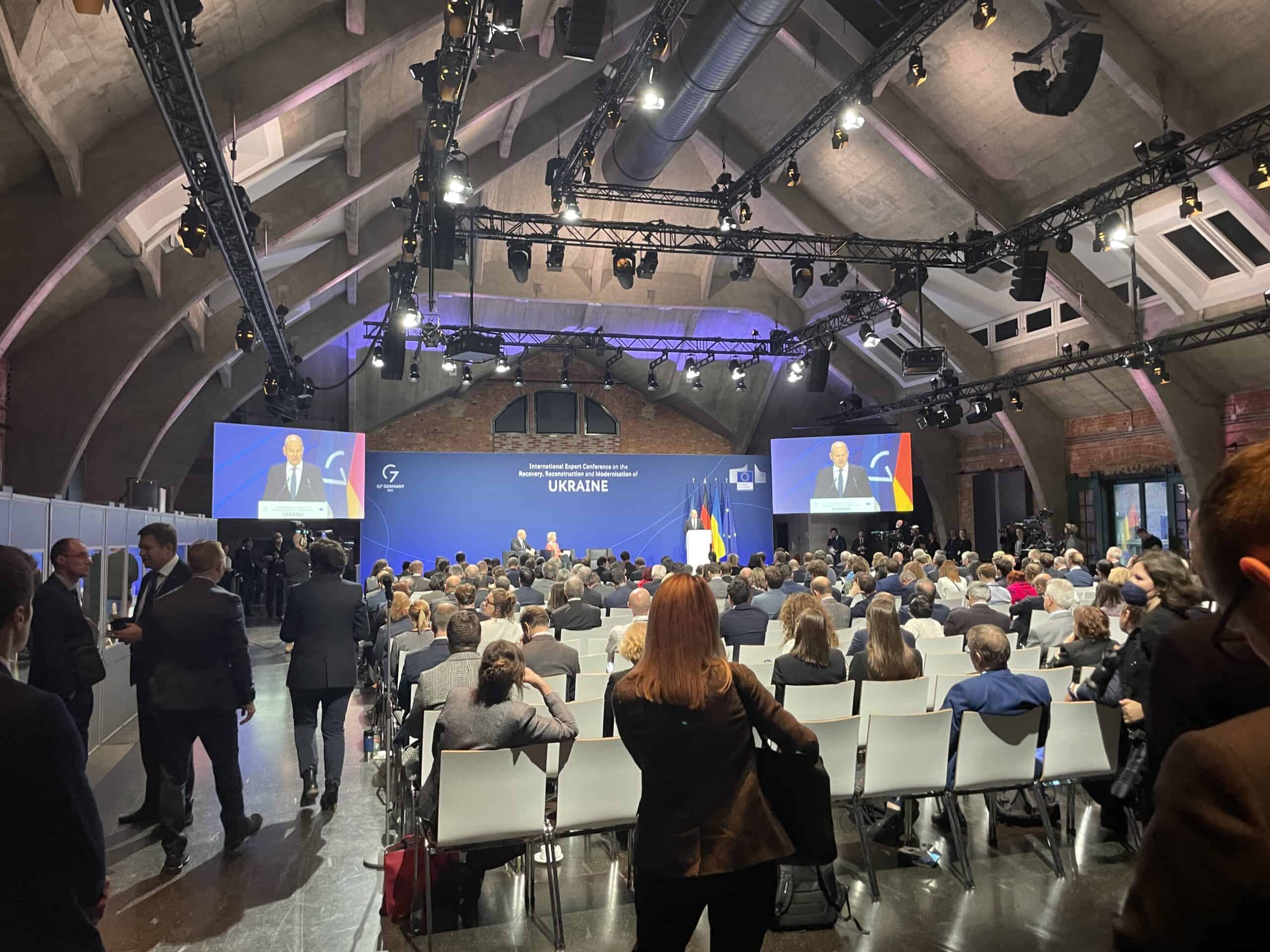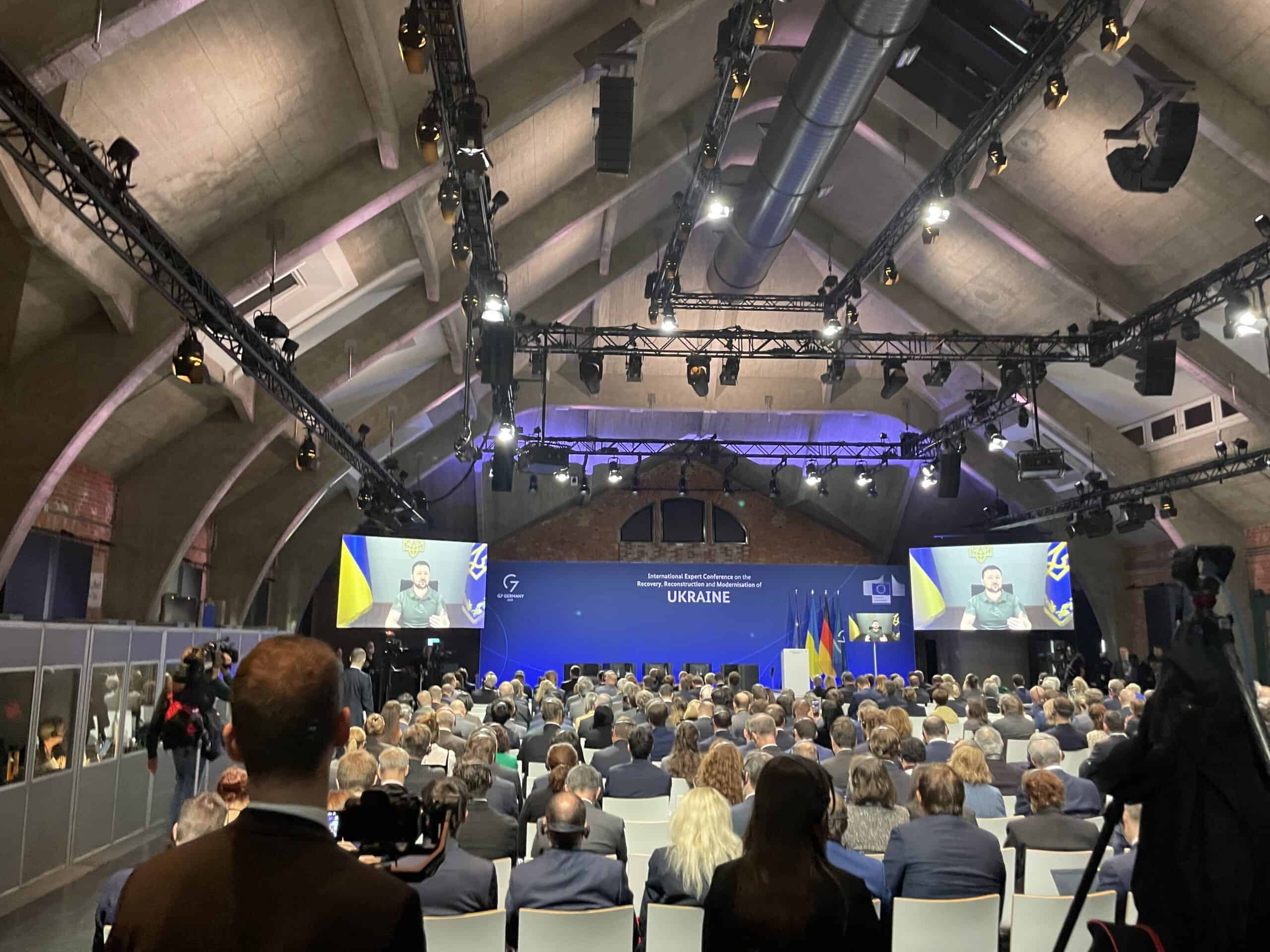 The WECC is located in the west of Berlin, close to Messe Berlin and the government quarter. The direct connection to the BAB 100 is connected via the Beusselstraße and into the City via nearby S- and U-Bahn stations.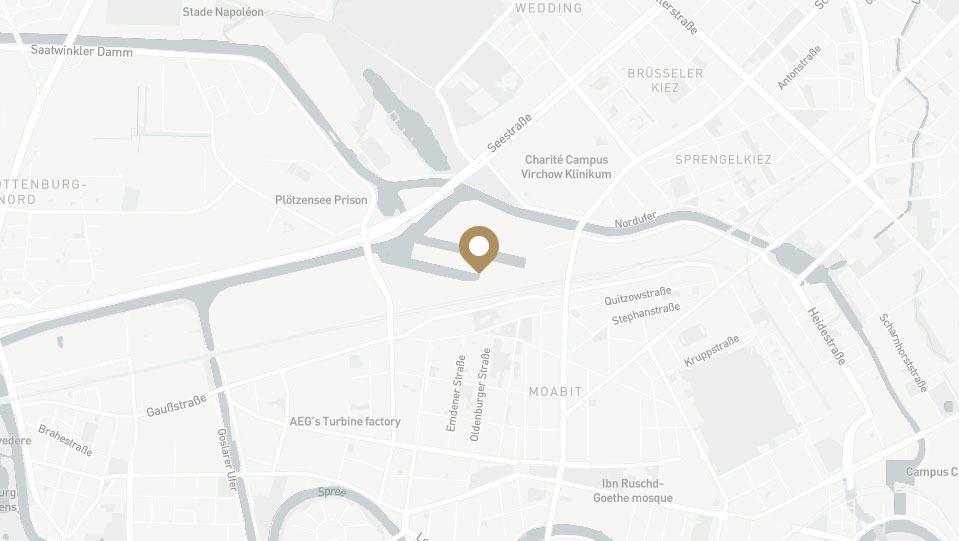 Address
Westhafen Event & Convention Center
SEKTOR B, Lagerhalle 1 Westhafenstraße 1
13353 Berlin
Public transport
S+U Station: Westhafen
S-Bahn: S2, S25, S41, S42, S46
Subway: U9
Bus: N9
Additional information for download about locations, basic costs, technology, seating etc..
WECC Westhafen Event & Convention Center
You can carry out a here virtual tour of our flagship location WECC and get a
first impression.
You can get an overview of previous events in these videos:
Regarding technical event equipment, our exclusive partner is Satis&Fy.
The WECC has its own pier, where it is possible to generate additional capacity on the water with our partners from Seminarschiff and Stern & Kreis Schifffahrt or to arrive from the city center with a maritime shuttle.
At the water's edge in front of the WECC there is the possibility to use the outdoor area – especially in summer the evenings are very quiet here and invite you to end the day.
We are looking forward to your event!